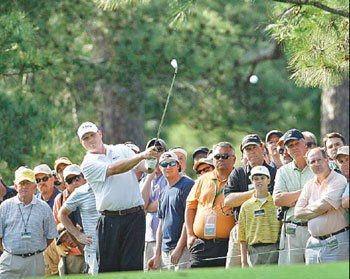 "Red Number Day."
This is how ESPN described the result of the first day of the major golf tournament Masters, as the leaderboard was colored in red en masse to indicate low scores.
The first round of the Masters began at Augusta National Golf Club (par 72) in the U.S. state of Georgia yesterday. Of the 96 golfers competing to win the green jacket, 19 scored in the 60s and 38 rounds were under par, perhaps because of the fine weather and the range of the course, which was cut by 10 yards. On the first day, six eagles and 354 birdies were posted to record an average score of 72.25, the lowest since 72.06 in 1992.
Chad Campbell bogeyed on the 17th and 18th holes after showing a stellar performance with nine birdies through the 16th, but took the lead with a seven under-65. Jim Furyk and Hunter Mahan tied for second in trailing by one shot behind Campbell.
Tiger Woods, going for his fifth Masters title, tied for 21st with veteran Greg Norman, though he managed a two under-70, his lowest record for a tie in a first round.
Woods has shot a 70 three times on the first day before, and won the championship in all such tournaments. Padraig Harrington, who is targeting his third consecutive major championship, tied for 14th, which is fairly good.
Ethnic Korean golfers showed a sluggish performance, however. Y.E. Yang ranked 51st at one over–73. K.J. Choi shot four under-76 to tie for 84th and Anthony Kim tied for 75th at three over–75.
Three teenagers considered promising stars also faced the lofty barrier of the Masters. Danny Lee, a Korean-New Zealander player, tied for 70th with a two over–74. Rory McIlroy tied for 39th at even–72 and Ryo Ishikawa tied for 51st.
kjs0123@donga.com