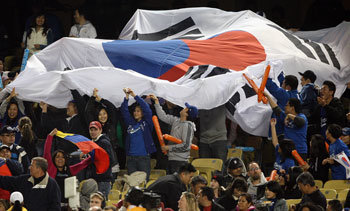 Dodger Stadium in Los Angeles today will be inundated with Korean national flags along with the powerful chants of "Dae-Han-Min-Guk (Republic of Korea)!"
Korea will play Japan for the World Baseball Classic title today and the right to call itself the best baseball country in the world.
"We talked about baseball all day long today. At a time when the economic crisis makes us gloomy, Korean baseball has relieved us of our concerns," said Jeon Song-taek, 68, an ethnic Korean resident of the City of Angels.
He said he visited the stadium with his friends to watch the semifinal between Korea and Venezuela Saturday.
Jeon immigrated to the United States more than 30 years ago.
"Back then, Korea was a poor country. Maybe we were better off than the Korean miners and nurses who went to Germany. Everyone had a hard time. The younger generation has no idea. You can talk about physical hard times many years later, but I don't want to think about the mental difficulty (of living in another country)," he said.
He said Korea's success in the tournament has helped him forget his tough past, adding watching his two-year-old granddaughter cheering for Korea was a pleasant surprise.
Korean Americans in Los Angeles, including the "Blue Goblins" cheering squad, plan to use every means of cheering seen at Korean baseball stadiums, including a large mosaic Korean flag, thunder sticks, plastic bags and newspapers.
They have also made pickets and placards for Korea so that other ethnicities can join. Korean fans dominated the stands at Dodger Stadium in Korea`s 10-2 semifinal win over Venezuela.
A heated cheering competition is expected in the final against Japan today, however, as many Japanese fans are expected to cheer for their home country.
why@donga.com