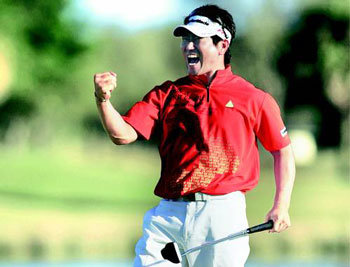 Yang Yong-eun smiles when he thinks of what happened around this time last year.
The 37-year-old golfer played the fourth round of the PGA Honda Classic without a partner, as he finished dead last after the third round. He teed off at 8:03 a.m. to finish in one hour and 53 minutes.
Yesterday, however, he was playing in the fourth round of the event in Palm Beach Gardens, Florida.
Ranked 460th in the world, Yang started the final round last among the top contenders but rallied to win at nine under-271.
Celebrating his win at a Japanese restaurant with Charlie Wi, who tied for ninth at three under, a cheerful Yang told The Dong-A Ilbo over the phone, "I have many good things now."
He finally won on his 47th try on the PGA Tour, becoming the second Korean to win on the tour after K.J. Choi. His prize ranking jumped from 115th to ninth after winning more than one million dollars, up from 461,726 dollars last year.
He also earned a two-year exemption on the tour.
Originally, Yang did not qualify for the CA Championship and instead intended to play in the Puerto Rico Open this week. Yesterday's victory, however, earned him a trip to Doral, Florida, and the right to play in the Masters next month.
"Playing the last four holes seemed as long as my golf career," he said.
The 15th to 17th holes on the course designed by all-time great Jack Nicklaus are so tricky, so they are called a "bear trap." Yang bogeyed on the 15th and 17th as his tee shots fell into the bunkers in succession.
He needed to two-putt from 50 feet out on the 18th to avoid a playoff with eventual runner-up John Rollins. Yang sank a 15-inch par putt to seal victory, then pumped his fists and let his emotions out.
"I renewed my commitment to win the title after hearing that Shin Ji-yai won an LPGA tournament and Korea beat China 14-0 in the World Baseball Classic," he said.
kjs0123@donga.com