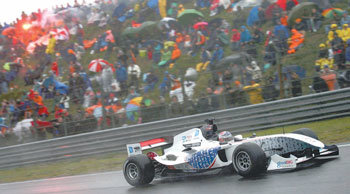 The landscape in this extensive plain area looks remote under the scorching sun of a hot summer day.
Open fields with no hint of shadow and low hills reach out endlessly.
At a racing circuit sitting in this territory, a herd of race cars armed with state-of-the-art parts and components as their skeletons and skin roar as if they are live animals. Heat from exhaust gas and hot weather in South Africa reheat the sizzling land surface.
A Dong-A Ilbo reporter arrived in Johannesburg after an 18-hour flight from Incheon International Airport. Afterwards, a 30-minute car ride going north of the city center took him to the Kyalami Race Track in Gauteng.
The fifth race for the 2008-09 season of the A1 Grand Prix World Cup of Motorsport, an international competition of national teams, was about to take place. South Africa attracted this event to promote the World Cup soccer finals it will host next year.
Spectators flooded into the Kyalami track, meaning "My Home" in the Zulu tribe's language, from yesterday morning.
The circuit is 4.26 kilometers long and it takes a minute and 40 seconds for a race car to run a round on the circuit. The roaring engine sound and smell from the burning tires surround the track, getting spectators highly excited at this global auto racing extravaganza.
When the competition began, spectators filled the 90,000-seat racing track almost to capacity. Auto racing is highly popular among the mid to upper-class white people here. South Africa ranks seventh in this year's series.
A1 Team Korea made its debut Oct. 5 last year at Zandvoort Circuit in the Netherlands, the first competition of the auto race series for this season. Hwang Jin-woo placed seventh in his debut despite challenging weather conditions.
Korea is still in its infancy in the A1 Grand Prix, however. It ranked low in the ensuing competitions, and to make up for its earlier sluggish performance, the team attracted Korean-Japanese racer Lee Kyung-woo.
But the team could not practice at the preliminary race Saturday because it failed to receive several parts for its race car by the organizing committee. In the end, it failed to participate in the South African competition.
Team Korea, which ranks 16th among the 22 participating countries, must wait until next season. Lee, the main driver of the national team, said, "I wanted to show a good performance and I regret (we cannot participate)," adding, "I will redouble efforts to rank in the middle level next season."
hic@donga.com