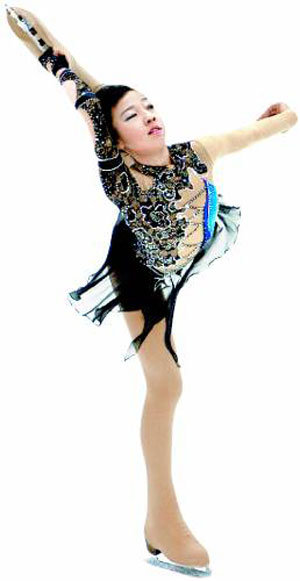 "Difficult? Not at all. It's so much fun."
Despite lack of technique and unnatural performances, the so-called "Kim Yu-na Kids" showed keen interest in skating as they hope to emulate their idol Kim Yu-na.
Young male and female figure skaters yesterday competed in the short program at the annual national skating competition held in the northern Seoul suburb of Goyang.
As if they had planned ahead, the responses from all of the female skaters were pretty much the same, such as "Kim Yu-na is my idol," "Skating is so much fun to do," or "I saw in person Kim perform at the Grand Prix Final last month."
On whom they want to emulate, they said in unison, "Kim Yu-na," reflecting how influential the figure skating star has become.
Claudia Mueller is a fifth grader at Gwansan Elementary School in Goyang. She was born to a Swiss father and a Korean mother and is a member of the first domestic figure skating community created by Onse Telecom last year.
Like skating queen Kim, Mueller said she hopes to represent Korea one day, saying, "I'll do my best to become a leading figure skater like her."
Park So-yeon, 12, who won both the Korean Novice Championship and a domestic competition last year, said she learned from Kim's figure staking class. "By practicing under her guidance, I learned a lot from her techniques and positions. It was a great help for me," she said.
A 15-year-old Gwak Min-jeong, who was ranked the 13th at Junior Grand Prix last year, said she also learned a great deal from Kim as they practiced together for a charity ice show last year. Gwak plans to participate in the World Junior Championships in February in the Czech Republic, and then move on to the senior competition.
Coach Shin Hye-sook is training emerging young skater Lee Dong-won at Gwacheon Elementary School in Gyeonggi Province. Shin said the techniques and performances of junior figure skaters are much better this year than last year.
The mother of 19-year-old figure skater Kim Na-yeong said, "Young figure skaters have shown remarkable progress in their technique, unnerving senior players."
Aiming to become the next Kim Yu-na, a number of young figure skaters have expanded their career reach onto the global stage. The group includes Kim Na-yeong, who competed at the World Figure Skating Championships last year, and Yun Ye-ji, 15, the youngest member of the national team.
Yun is an ambitious youngster who won the Triglav Trophy Novice's gold medal last year. Lee Hyeon-ji and Seo Chae-yeon are also considered the future of the Korean figure skating industry.
In contrast to the energetic enthusiasm of the players inside the competition arena, most of the seats remained vacant with only about 120 taken. No placards promoting the competition were seen around the area.
creating@donga.com