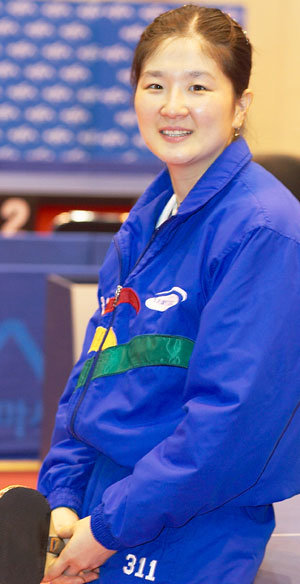 Lee Eun-shil (Samsung Life), a 29 year old table tennis pro, retired after winning a silver medal in the women's doubles with Seok Eun-mi (KAL, coach) at the Athens Olympics last August.
She had been seeking to start a coaching career after getting married in April, but she returned to the green table in October, leaving behind her sweet life as a newlywed.
On December 6, she won Korea's most prestigious national combined tournament.
This was her fourth victory in the singles category of the competition.
After defeating Park Gyeong-ae (KAL) in a tight match, 4-3, Lee flopped down on the court floor and cried with joy. That moment was dubbed the "tears of the viper" on the national table tennis scene. "Viper" is Lee Eun-shil's nickname, thanks to her piercing stare and brutal diligence in practice.
This reporter met with her on December 16 at the multi-purpose gym located in Danyang-gun, Chungbuk, where the KRA Cup SBS Table Tennis Championship is being held.
"That was the third time I cried in public. The first time was the comeback victory I had in the 2002 Beijing Asia Games' doubles final, where we won, 4-3 after falling behind 1-3 to Jiang Yi Ning and Li Nan. Another time was at the Athens Olympics when we defeated the North Korean duo of Kim Hyeon Hee and Kim Hyang Mi, to whom we always lost. But this time was the hardest I have ever cried."
She had a goal to have a successful career in coaching, and the position of trainer given to her after the Olympics was not a fulfilling one. In fact, what her employer, Samsung Life needed more than another coaching staff member was the formidable athlete that Lee Eun-shil was. She came back to playing, thinking that this might not be her time to retire yet. But she was worried whether she could make up for the 10 months she had been away.
"I regained my confidence after the combined tournament, but I feel bad about beating younger players. The young players must wake up and build up their skills so they can overcome me."
Her married life is going well for her, too. Her husband, Lee Chang-don (33), a computer graphics designer, is a man with a big heart, according to her.
He husband's office is in Yangjae-dong, Seocho-gu, and Samsung Life's gym is located in Seocho-dong, so the couple drive to and from work together everyday. Despite scant chances of nice home-cooked meals and having to eat out everyday, her husband is an understanding person.
Lee Eun-shil has been accepted to the Ph. D program in Kyunghee University's sports studies department. Their plans for kids will have to wait until her studies are over.
She has no more goals as an athlete. "If I can help the team, I'm happy. I used to be a little greedy, but now I'm trying to enjoy the game, and thinking like that makes me play better."
Sung-Kyu Kim kimsk@donga.com