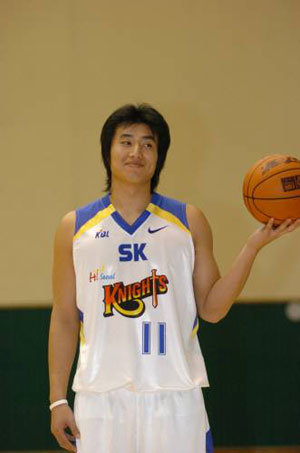 Bang Sung-yoon (photo) took the number 11 after his lightening trade from KTF to SK.
In SK's tradition, the number 11 means "the best."
SK Telecom is the corporate owner of the team, and its mobile communications services number starts with "011." Seo Jang-hoon (Samsung) and Jo Sang-hyeon (KTF) wore the number before Bang's arrival.
The number also illustrates the team's expectations of Bang, who returned to the Korean basketball scene after playing in U.S. National Basketball Development League, the official minor league of the NBA.
Bang landed at Incheon Airport early yesterday morning. In the afternoon, he was given a new uniform with his new number and was introduced to his new teammates at SK Stadium in Yongin City, Gyeonggi-do.
Saying hello to the team's manager Kim Tae-hwan, Bang said he always liked the blue of SK. "I'll give my best effort to the team this season. I would like another chance at the NBA with SK's support. That's why I left all my things in the US.", said Bang.
"I don't want to repeat the trite old saying that I'll do the best I can.", added Bang. "I might not have much time to fit perfectly with the team. But I hope I can help. I want to leave the impression that I am ready for NBA."
Kim Tae-hwan, the team's manger, warmly greeted Bang, saying, "I've had my eyes on this guy ever since I was coaching college basketball at Joongang University." The team's captain Chun Hee-chul also said, "The most important thing for him is to readjust himself to Korean basketball as soon as possible."
Bang will make his debut in SK's upcoming away game against LG on November 26 in Changwon.
Jong-Seok Kim kjs0123@donga.com