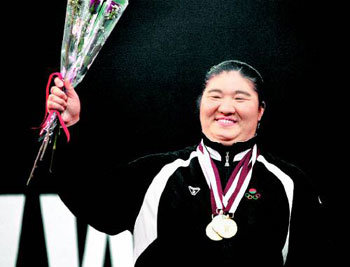 Jang Mi-ran, a 22-year-old weightlifter from Wonju City, is enjoying her height of prosperity.
Jang Mi-ran won the gold medal in the "clean and jerk" category of the women`s +75 kg division at the IWF's 17th Women Centennial World Weightlifting Championship in Doha, Qatar on November 15.
Jang entered the Korean weightlifting scene at the National Women Weightlifting Championship in June 2000, where she tied Olympian Moon Kyong-ae's clean and jerk national record.
That was in her second year of high school. Winning the world championship title this year, she has grown to be the strongest woman in the world.
The most noteworthy point surrounding Jang's feat is that it appears she will have no worthy rivals for some time to come. China's Tang Gonghong, a once gold medalist who stirred up a misjudgment dispute, has been reported to be leaving the weightlifting scene due to a chronic illness.
Ding Mei Yuan (26), who holds the third best world ranking, and who is another poster child of Chinese weightlifting, appears to be losing her touch over the years. She lost to Jang Mi-ran by 15 kg at the East Asian Championship held in Macao on November 3.
Jang's other competitors such as Cheryl Haworth (U.S.) who ranked second in the world, and Agatha Wroebel (Poland, ranked fifth), have shown no progress with their personal bests all under 290 kg in recent matches.
Things were not much different for Ukraine's Olha Korobka who once aroused suspicion of hiding her full capacity. She has not shown anything that sets her apart from the rest. China's Mu Shuangshuang, a surprise newcomer to the world stage, has not yet reached Jang's capacity.
Jang defeated Mu after participating in three big competitions all held within a month. It is a common understanding in the weightlifting world that an athlete needs at least a two-month break after a competition to tune one's body to top condition.
Jang's last challenge as the world's best is to break the world record. Her best record so far is 302 kg in total weight, a Korean national record she scored in the Athens Olympics, which is 3 kg shy of Tang Gonghong's 305 kg world record.
Seeing Jang Mi-ran's record-breaking run at the Korean National Sports Festival last month, the world record does not seem too distant.
uni@donga.com