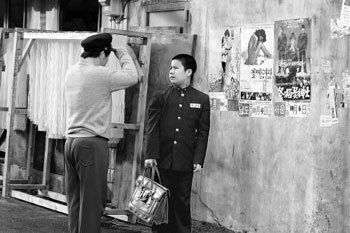 "Many homes had attics then. Children would hide there to read comic books, or daydream over whether "mom will be sad when I die" after being punished by their parents.
Those were the days.
During kimchi season, mom would preserve more than 100 cabbages in the front yard, and from time to time, schoolgirls would scream over a dead rat that had eaten rat poison in an alley. There were assemblies every Monday morning in school, and we would go to the movies after midterms. We also cleaned toilets and received other disciplinary punishments.
The Growing Up of a 14-Year-Old Boy in 1979-
"I Love You, Malsoon," directed by Park Heung-shik brings these scenes from the lives of the 7080 generation to life. His world as seen through the eyes of a 14-year-old shows the love between family members, and nostalgia and longing for past times. Park Heung-shik, the director of "Little Mermaid" and "I Wish I had a Wife," once again weaves together a humane drama with a sensitive and compassionate viewpoint that is characteristic of him.
The movie may be bland since there are no exaggerated efforts to force tears or laughter from the audience, but it allows the viewer to take a comfortable trip back to the past.
The background for this movie is that turbulent era in history which starts from the assassination of former President Park Jung-hee and continues on through the time of Chun Doo-hwan. However, the movie pays little attention to the times and focuses instead on the daily life of Gwang-ho (played by Lee Jae-eung), a short-haired adolescent boy.
With his father in Saudi Arabia for work, Gwang-ho lives with his mother Malsoon (played by Moon So-ri), a cosmetics saleswoman, and Hae-sook, his younger sister. He also develops a crush on Eun-sook (played by Yoon Jin-seo), a tenant in his home, and promises that he will forever look after the "beautiful woman," and he grumbles that his life is messed up because of the mentally-challenged Jae-myung (played by Kang Min-hwee) who follows him all around the neighborhood.
One day, Gwang-ho receives a "good-luck letter." The letter states that unless he immediately writes and sends the same letter to someone else, he will be faced with bad luck. Gwang-ho sends the letter to mom, Eun-sook and Jae-myung, but all three ignore the letters. Perhaps because of this, Gwang-ho watches as bad luck descends upon those close to him.
This is a growing up movie that deals with the dreams and longings of an innocent boy who is compelled to open his eyes to sex and the sorrows of life. In addition, the movie contains scenes of the violent and repressive schools of the times and the lives of the estranged people. Therefore the relationships Gwang-ho makes with the other characters, including his mother, Eun-sook, Jae-myung, and Gwang-ho's thug friend Chul-ho, all mean something special in portraying the period experienced by the 386 generation.
Is it too much to branching four stories in a single movie? It is sometimes difficult to concentrate on the love between mother and son, which is the main story.
Ah! The Beautiful Times!-
Lee Jae-eung, Moon So-ri, Yoon Jin-seo, and Kang Min-hwee are all stable in their acting. The meticulous directing skill of the director, who carefully prepared the backgrounds and the props is also evident. Small details, such as in the first scene where the camera flies through a narrow alley surrounded by a row of reformed Korean-style houses to show used briquettes scattered on the alley, a person using a hula-hoop, a woman drying chilies on the roof, and also in scenes showing household goods and a lunch box containing sausages and fried eggs, add reality and amusement to the movie.
They say the most beautiful times are the times that cannot come back. Perhaps that is why this movie, which has restored those times that are still so fresh in the memories of those in their 30's and 40's but no longer exist now, is so touching. The movie will be released on November 3. For audiences ages 12 and up.
Mi-Seok Koh mskoh119@donga.com