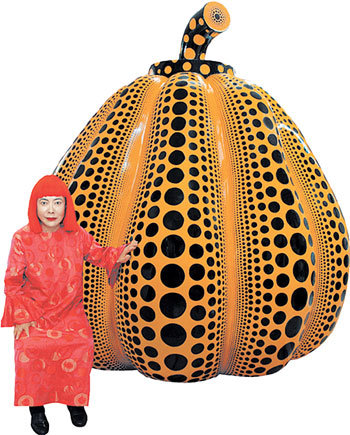 Kusama Yayoi, who will open a large-scale private exhibition until November 15 at Jin Gallery (02-738-7570) located in Jongno-gu, Seoul, is a 76-year-old female artist. She currently works in Tokyo, but in her youth, she traveled to New York and worked with great masters of the time such as John Cage, and rose to world stardom with her peculiar realm of art. Her Korean exhibit will display her trademark series "Waterdrop" and "Dot," as well as 45 other famous works including her rendition of an unusual pumpkin.
An oversized pumpkin of 1.5 meters in height and 1.0 meter in width greets visitors at the entrance. Spirituality oozes from the marvelous yellow sides decked with innumerable black dots. The artist expressed the pumpkin's strong vitality, remembering her own days from WWII when she survived by eating pumpkins. Her fantastic monochrome waterdrops and dot series are also unparalleled in their caliber. They are all new creations that have been produced over the past five years. The artist is living a unique life in Tokyo, "residing" in a mental hospital and going to her art workshop in the morning for 10 years now due to severe insomnia and an artistic obsession that makes her see colors and images when she closes her eyes.
Director of the gallery Yoo Jin (73•female) is a gallery veteran who celebrates the 33rd anniversary of the Jin Gallery this year. Maintaining a friendship with Kusama that spans two decades, Yoo says, "I go to see Kusama once a month in Tokyo, to get inspiration from a person who's devoted her entire life energy to art."
90-year-old painter Jeon Hyeok-rim's new collection-
The title of Jeon's exhibit for his new collection, which will run from November 12 to December 18 at the Lee-Young Art Museum, is called "At Ninety, You Are Still Young." Born in 1916 in Tongyeong, Kyeongnam, the artist never left his hometown and has retained a unique coloring method and coloring schemes that have earned him the title of "the Father of Korea's Color Paintings."
Jeon says, "I draw even in my dreams. I have never drawn better in my 70 years of painting." Three of his thousand-item collection, including "Hanryusudo Between Pillars," are super-sized works, showing that his creative energy is still very much alive. All of his 400 pieces, including his 320 wooden "Mandala" series and 40 oil paintings and watercolors will be on display- they were produced this year.
Director Kim Lee-hwan, who has been traveling 420 kilometers from Seoul to see Jeon every weekend for a year, is 71 years old. A corporate retiree who now operates a museum, he said, "If I see his glittering eyes, I feel alive," and advised, "nowadays, young or not, everyone just loiters around, but people in the art world should always find new interests to invigorate themselves, regardless of their age."
77-year-old Kim Young-jae-
Kim Young-jae forgets his age as he searches mountains in Korea and abroad for inspiration for his pieces, which are currently on display at Gallery In in Jongno-gu, Seoul until November 11. After seeing the glaciers of the Alps in 1979, he continues to draw only mountains and since then, has traveled to Kilimanjaro, the Andes, the Himalayas, Nepal's Annapurna, and the Tibetan plateaus as both a painter and a hiker.
Bathed in an aqua hue, his mountains are not merely flat, but capture vast vistas from atop breathtakingly tall mountains. To achieve this effect, the artist not only climbs mountains, but also uses aircraft and helicopters. The 25 pieces on display are also tinted with cyan, and show the majesty of nature through subtle color gradations and simple composition.