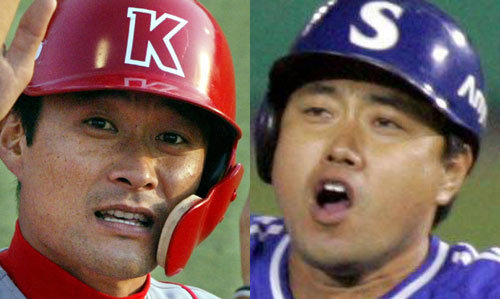 Veteran baseball players such as Hanhwa's Song Jin-woo, Samsung's Yang Jun-hyuk and KIA's Lee Jong-beom, who qualify for free agency, are looking forward to another jackpot.
Song, who is 39 years old and called the "textbook example for multi-year contract recipients," is very likely to get his third multi-year contract, the first ever Korean baseball player to do so.
Ranked number one in the free agent market, he signed a three-year 700 million won contract in 2000. After the 2002 season he signed for another three-year contract at 1.8 billion won. He met the requirements for his second free agency period in the end of last year, but since he was still under contract, he did not enter the market. This year he will test the free agency market, which he did not do last year.
Song's record this year is 11 wins 7 losses and an ERA of 3.81. Considering his performance, that is contrary to his aging, and it is an already accepted fact that he will sign a multi-year contract with his current team, the Hanhwa Eagles.
Samsung lefty batter Yang, 36 years old, is focusing on his second free agency contract. In 2002, he signed a four-year contract worth a maximum 2.72 billion won when he moved from LG to Samsung.
This season, the last of his contract, his batting average was .261, with 13 homeruns and 50 RBI: a bit poor for him. However, in the third game of the Korean Series against Doosan, he hit a decisive three-run homerun and made up for his below average season performance.
KIA's Lee is quite a special case. He became a free agent after playing for 13 years. That is because from 1997 until 2001, or three and a half years, he played in the Japanese League. Although not quite like his peak, he had a good year with a batting average of .312.
The Korea Baseball Organization plans to announce its list of the 16 players, including KIA's Jang Seong-ho and SK's Park Jae-hong, who will become free agents, on October 24.
uni@donga.com