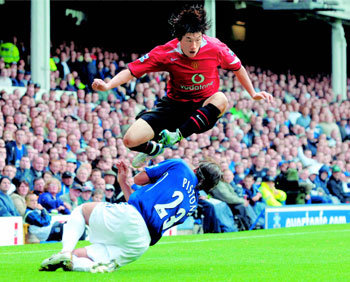 The new engine for England's Manchester United, Park Ji-sung, showed wide playing range and had a successful league debut game.
Breaking expectations otherwise, Park started in Manchester United's opening game of the 2005~2006 England Premier League against Everton, played in Goodison Park, Liverpool, England, on August 13. Park became the first ever Korean to play in Premier League, considered as one of the three best professional soccer leagues in the world.
Before the game it was predicted that Park would play in the second half of the match as a substitute on the star-laden club, including Roy Keane and Ryan Giggs, but he played as a starter.
Park was the left wing of the 4-4-2 formation and played until the 40th minute of the second half, or 85 minutes. The club manager, Sir Alex Ferguson, showed confidence in Park, by letting him start in the club's opening game, which is at the center of attention of the club's fans.
Nevertheless, sports analysts still consider it to be too early for Park to have found his place in the starting lineup. The Manchester United website viewed Park's start as a measure taken because of the ankle injury to Cristiano Ronaldo, who competes with Park for a spot, caused during practice.
Manchester won the match 2-0 with goals by Ruud van Nistelrooy, in the first half and Wayne Rooney in the second.
Overall, the assessment of Park's play was positive. With a great heading pass to van Nistelrooy in the sixth minute of the first half, and other passes to him, Park played well with van Nistelrooy. In the 38th minute, Park drove through the right side and crossed to the ball, and in 60th minute he broke through a defender and had a one-on-one shot against the goalie. However, Park's shot went straight to the goalie, and didn't end in a goal.
After the game, Park received 7.0 points for his performance by Sky Sports, an English sports broadcaster, the third highest number of points on the whole team.
Won-Hong Lee bluesky@donga.com