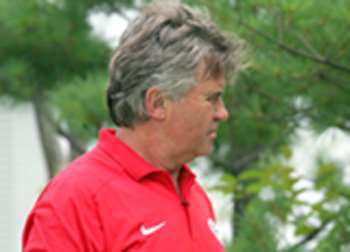 The kick-off game of the 2005 Peace Cup Korea between the Netherlands` PSV Eindhoven and Songnam Ilhwa will be held in Seoul World Cup Stadium at 7:00 p.m. on July 15.
PSV Eindhoven, who won the first Peace Cup in 2003 and is still led by Guus Hiddink, Korea`s national hero who led the Korean national team to the semifinals of the 2002 World Cup, is the No.1 contender for this year`s Peace Cup title. The team also went to the semifinals of the 2004-2005 UEFA Champions League, the best soccer league in the world, proving their strength.
Hiddink vows to win the game to secure back-to-back Peace Cup championships, using "the trickster" Lee Young-pyo and Hesselink. But the challenging factor is that the players were reunited last week from vacation after finishing the 2004-2005 season and might not be in the best condition.
Songnam Ilwha, whose parent company hosted the event, is one of Korea`s best professional soccer teams with three consecutive season championships under its belt. The team collapsed in the last year`s rankings due to the loss of good players, but it brought Brazilian striker Motta and Kim Doo-hyun aboard and recovered its power.
The strategy competition between Guus Hiddink and Kim Hak-bum, the hard-working young leader, is also of interest.
Jong-Koo Yang yjongk@donga.com