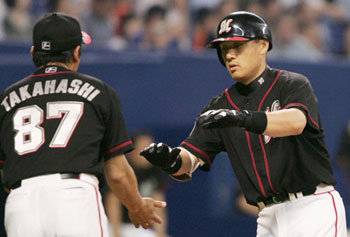 Lee's bat is on fire and won't cool down.
Lee Seung-yeop (29, Lotte Marines) showed off his sizzling bat by hitting homeruns two days in a row.
In a road game played at the Nagoya Dome against Chunichi on June 12, Lee sent Chunichi reliever Suzuki Yoshihiro's ball over the left fence in the top of the fifth inning with one out and leading, 7-0. It was his 15th homer of the year.
Having hit his 14th homer the day before against Chunichi, he tied his last season's total in homeruns and has hit 15 in 49 games this season. He hit a homerun every three games. If he keeps this pace, he will hit over 30 by the end of the season.
Lee widened the lead to 5-0 in the third inning when he hit a double to deep left field with runners on first and second and no outs. That was his 12th double and 50th hit.
He also became the homerun leader of the team, beating Franco, when he hit his 14th homerun. In his first at-bat of the game he flew out to left field. Despite the fact that Chunichi's starting pitcher was lefty Ohkasawara, he started in the game as the seventh batter and left fielder.
The Marines, on top of the Pacific League, are currently leading 9-1 in the sixth inning.
Lee also played splendidly the day before on June 11 by going three for five with two RBIs, three runs and a solo homerun. He made a hit in his second at-bat in the fifth inning, and sent right-hand Ohkamoto Shinya's low 141 kmph fastball over the left fence when he started off the sixth inning with his team leading 7-5. In the seventh he connected to right field with one out and runners at the corners, making hits in three consecutive at-bats.
Sung-Kyu Kim kimsk@donga.com