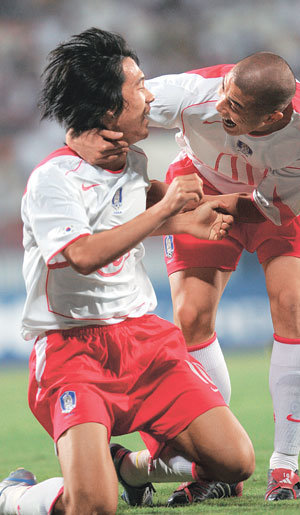 "I feel great. I am happier because I am going to play in the World Cup, not because I scored a goal.''
Park Joo-young (20, FC Seoul) scored two out of four goals in the national team's 4-0 win over Kuwait on Wednesday. "Soccer Prodigy" Park, who emerged as the top striker of the national team, calmly said that "I could score goals thanks to the help of other players. I am pleased that I can play with my respected senior players."
He completed the schedule of the national team of adult players and he will now fly to Emmen, in the Netherlands to join the U-20 team, which will compete in the World Youth Championships starting on June 10th. He is going to join Park Sung-hwa's squad and play against Switzerland on June 13th, Nigeria on 16th, and Brazil on 18th in a preliminary game.
Following are questions and answers with Park:
How do you feel about scoring two goals in the Group A-match?
"I feel great. I am happier that I am going to play in the World Cup. The victory is attributable to wonderful and harmonious play with senior players. I am happy to play in the World Cup."
What tactics do you think made the goals? You scored the first goal early in the first half…
"I thought the Kuwaiti players would come on strong because they were in a difficult situation. So I waited for a chance, and the ball just flew to me and hit my foot. I was lucky.''
The World Cup is about a year away from now…
"I will practice harder. I have to work harder to be fully prepared because the World Cup is different from preliminary games. Every soccer player wants to play in the World Cup. I will be well prepared for it."
Now you are going to join the U-20 team…
"I will play as hard as I did for the national team. Players on the U-20 team know each other very well. I will bring good news to the Korean people."
What do you think was the driving force behind today's victory?
"The victory is all thanks to the enthusiastic cheering of the Korean people who stayed awake until the early hours of the morning. I am grateful to them for watching the game on TV and coming to the stadium to root for us. Senior players, coaches and coaching staff were also a great help."
Jong-KooYang yjongk@donga.com