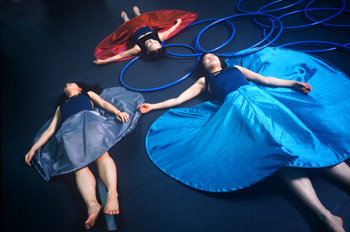 June is the month of dance.
A series of major dancing performances are scheduled. Shortly after the International Modern Dance Festival (Modafe) ends on June 7, the Seoul Performing Arts Festival and Changmu International Arts Festival begin this week.
Seoul Performing Arts Festival-
It is a creative dance contest organized by the Dance Association of Korea (chair: Kim Bok-hee). A total of eight teams, including the Lee Kyung-ok Dance Company and the Seoul Ballet Theater, will compete in this year's event. The event, which started out as the Korea Performing Arts Festival, was considered the cradle of creative dancing. But it also recently faced controversy over fairness of judging and much criticism from the Korea Association of Dance Commentators which called for improvements in the event. In an effort to make an improvement on the matter, organizers are planning to select judges on the festival's opening day through an open drawing among those dancers aged 40 or older who have participated in the event with his or her dance composition. The event is scheduled to run from June 10 to 26 at the main hall of the Korean Culture and Arts Foundation. Ticket prices range from 8,000 to 12,000 won (02-744-8066).
Changmu International Arts Festival-
This 13th annual arts festival offers the history of Asia-Pacific modern dance. The theme of this year's festival is "Theme and Variations on the King's Dance." Choreographers from Korea, China, the U.S. (Hawaii) and France will perform modern versions of traditional royal dances. It will be a good opportunity to feel the dancers' breaths in a small theater with some 300 seats.
The performance will offer eight dances, including "Pilgrim," a Chinese royal dance which describes the agony of a Chinese emperor and a variation of the Hawaiian hula. The event is co-hosted by the Chang Mu Art Center (Chair: Kim Mae-ja) and "Mom (means "body" in Korean)," a dance magazine. It will be held from June 7 to 17 at the Post Theater in Seogyo-dong, Seoul. Ticket prices range from 15,000 to 20,000 won (02-337-5961).
Sue-JeanKang sjkang@donga.com