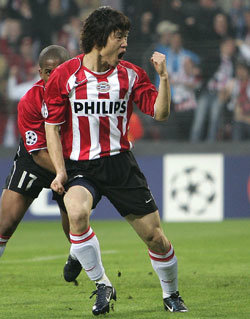 May 5 is the PSV Eindhoven Korean duo's day.
Park Ji-sung (24) became the first Korean soccer player to score a goal in the semi-final of the UEFA Champions League, a dream stage for soccer players. Lee Young-pyo (28) recorded one assist.
The second leg of the UEFA Champions League semi-finals between PSV Eindhoven and AC Milan (Italy) was held at the Philips stadium in Eindhoven, the Netherlands, on May 4, 2005.
Park started as the left wing to score the first goal after nine minutes in the first half. He sent a pass to Vennegoor of Hesselink from the center of the midfield, and dashed for the goal to get the ball back with a hard shot. The ball hit the net in the upper right corner, fizzing past Milan goalkeeper Dida.
Park's goal was the first to be scored by a Korean soccer player in a Champions League final match. The goal was particularly meaningful because it penetrated the intense defense of AC Milan, which was characterized by the world's top defenders, including Alessandro Nesta, Jaap Stam, Paolo Maldini, and Cafu.
Park is the second Asian player to score a goal in the Champions League semi-finals, following Japan's Yasuhiko Okudera (FC Koln) in the 1978/1979 season.
Lee Young-pyo also showed an outstanding performance.
Lee, who was playing perfect defense, broke through Cafu to send a flawless cross toward Phillip Cocu after 20 minutes of the second half. Cocu converted the cross into the second goal for Eindhoven, and Lee recorded one assist.
Eindhoven won the game against Milan 3-1, but failed to advance to the final. Although the aggregate score over the two semi-final rounds was tied 3-3, Eindhoven lost the game on the away goal rule, as it allowed a goal at home ground.
Eindhoven was on a 2-0 lead, but allowed a fatal goal to Massimo Ambrosini of AC Milan immediately after injury time began. Cocu scored his second goal for Eindhoven with a left volley shot two minutes into injury time.
"The Champions League taught me about European soccer as distinct from the World Cup. Victory or defeat is important, but it was impressive that European soccer players enjoy playing soccer itself. Every game was a pleasure for me," said Park.
Lee said with disappointment, "Although we did well, we could not go on to the final. We allowed a goal, because we were not attentive enough at the last moment."
Even though Eindhoven failed, Guus Hiddink highly praised the outstanding performance of the Korean duo. He appreciated them, saying, "The two could not play more successfully. I am so proud of them, and they are worthy of praise. They played the game in a wonderful and fantastic way, and in a modern style."
Jong-Koo Yoon yjongk@donga.com