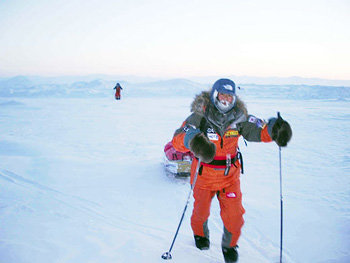 "The North Pole is in front of us."
The North Pole Expedition Team led by Park Young-seok (42, director of Goldwin Korea, and Dong-guk Univ. Alpine Club OB) has passed the 89 degrees north latitude. The remaining distance to the North Pole is 99.37km.
On April 27, the four-man expedition composed of Park, Hong Seong-taek(40), Oh Hee-joon(35), and Jeong Chan-il (25), advanced 25.87km without rest for 11 hours and 45 minutes.
Their current location is at 89 degrees, 6 minutes, 349 north and 66 degrees, 24 minutes, 468 west. The team has covered 672.76km, or 87 percent of their total straight-line distance of 772.12 km, and if it keeps this pace, it will reach the North Pole in four days, on May 1.
On its 50th day of the expedition (under the auspice of Dong-guk University Park Young-seok World Exploration Association, sponsored by Dong-A Ilbo, LG Insurance, NC Soft, Northface, and SBS), which started on March 9 at Canada's Ward Hunt Island located at 83 degrees north, 3 minutes, 090, the team has fought off blizzards accompanied by strong winds, bitter coldness, and snow storms.
There were also obstacles such as ice mounts caused by colliding ice plates and ledges caused by cracked ice exposing chilly sea waters.
Currently, all of the team members are suffering from frostbite, not only in the hands, feet and face but also all over the body, and are showing signs of snow-blindness due to long exposure to strong UV rays.
This year, seven expedition teams from all over the world sought to reach the North Pole by foot. Out of the four teams that have already started, three have given up in the middle and only Park's team is at the brink of success.
The number of ice mounts that have troubled the expedition team until the 88 degrees north parallel has reduced considerably, lightening up the pace of the team. However, with temperatures rising to -20 degrees Celsius, ledges are increasing, and becoming a new factor affecting the speed of the team.
If Park succeeds in reaching the North Pole, he will achieve the great feat of accomplishing the Alpine Grand Slam for the first time ever: climbing all 14 peaks of Himalayas over 8,000m, climbing the highest peaks of the seven continents, and reaching the world's top three spots, which would be the South, North Pole, and the summit of the Everest.
Chang Jeon jeon@donga.com