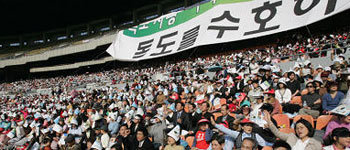 On March 27 Easter day, Christians attended church service commemorating the Resurrection of Jesus, wishing for love and hope to spread worldwide.
Combined Easter services in Seoul, in which about 80,000 Christians attended at Jamsil Olympic Main Stadium, Seoul, were held simultaneously with a mass meeting for the protection of Dokdo.
Church services were performed that day in over 200 places at the same time, including Busan, Daegu, Incheon, and Gwangju.