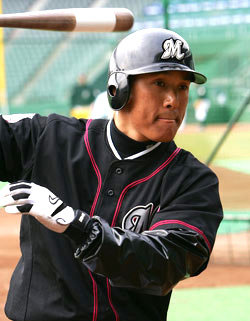 Is this the start of another nightmare?
Lee Seung-yup (29, Chiba Lotte Marines) is greeting the Japanese pro-baseball season in the minor league. Japan's Sports Nippon announced March 23 that Lee Seung-yup has been bumped to the minors by foreign players Benny Agbayani, Matt Franco, and Valentino Pascucci.
The newspaper did not announce directly Lotte coach Bobby Valentine's choice of opening day players to be announced on March 24, but reported that "In his second year in Japan, Lee Seung-yup is still showing a weakness in hitting the curve ball," announcing his path to the minors.
Lee's translator, Lee Dong-hoon, said, "We haven't heard about his status in the major or minor leagues." Former LG coach Kim Sung-geun, who is working as a Lotte instructor, said, "If discussions were not opened, they would have at least notified me of it," adding, "I heard there was a general conference of the coaching staff on the starters on March 23. There will be a decision soon."
Lee's path to the minors was predictable. In this year's exhibition games, Lee Seung-yup recorded an unbelievable 1 hit in 20 at bats for a .050 batting average, even worse than the poor performances of surpassing even the poor scores of Franco (.265, 2 home runs), Agbayani (.233), and Pascucci (.200).
Following Japan's rules stipulating that four foreign players can play out of up to five on a team, and where no more than three of them can be batters or pitchers, Lotte has to send one of its four foreign hitters to the minors. Lee Seung-yup is set to be that player.
It is the second time Lee has been sent to the minors. In an away game against Sapporo last May 10, Lee returned after 10 days in the minor leagues. But that was when there were only three foreign players on the squad. His poor record since the beginning of the season has been shocking.
Former coach Kim Sung-geun said, "The ability to adjust to the breaking ball and his psychological state were the main issues here," adding, "Lee Seung-yup is facing a new challenge here. The 600-plus swings that he takes every day leave his hands bruised all over. We'll probably be hearing good news soon."
In the meantime, On Media announced that games played by Lee Seung-yup that were to be shown on the cable channel Super Action will no longer air due to the lapse of negotiations concerning broadcasting rights with the Chiba Lotte Marines.
Hwan Soo Zang zangpabo@donga.com