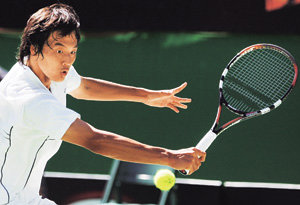 The tennis court has been his playground since childhood.
Growing up under a father who ran a tennis center, the racket and tennis balls were his toys. Naturally, he chose to be a tennis player and eventually grew up aspiring to be one of the best.
Kim Sun-yong (18, Yangmyung High School, world junior ranking: number one) is the next-generation ace in Korean tennis. In the Australian Open boys' doubles final held in Melbourne, Australia on January 29, Kim and his partner Yi Chu-huan won the title.
In the boys' singles final held on January 30, however, he was defeated by second-ranked Donald Young (16, United States) 0-2 (2-6, 4-6), failing to win two titles, but became the first male Korean player to win second place in the junior section of a major championship. Perhaps it was because of the stress he felt at the finals, but Kim made less successful first serves and committed 41 errors, which were 15 more than his opponent. One female player, Jeon Mi-ra (Samsung Securities), once made it to the final at Wimbledon in 1994.
Kim Sun-yong said, "Having played in 20 matches in two weeks, I was too exhausted to run after the ball at the singles final," adding, "It is regretful to have missed the title, but I am happy to have done well at a big match."
Though he narrowly missed the championship, this was an opportunity for Kim Sun-yong to gain attention as a talent to lead Asian tennis. Four out of the five matches that he won up to the semi-final were come-from-behind victories, which showed his strong persistence, and in the second round, he served the ball at a maximum speed of 200km/h for the first time.
Junior matches in a Grand Slam are star incubators. The current number one-ranked player in the world Roger Federer (Switzerland) and number two Andy Roddick (United States) each won second place and first place at the 1998 and 2000 US Open boys' singles.
Also, former top-ranked female player Martina Hingis (Switzerland) had been champion in Wimbledon's junior matches in 1994, and current top-ranked player Lindsay Davenport (United States) won the U.S. Open junior championship in 1992. Kim Sun-yong, 186cm tall and receiving support from Samsung Securities for six years, also has the potential to grow even more as a tennis player.
Meanwhile, in the women`s singles final held the previous day, seventh -seeded Serena Williams (United States) beat top-seeded Lindsay Davenport 2-1 (2-6, 6-3, 6-0), regaining the title after two years.
Jong-Seok Kim kjs0123@donga.com