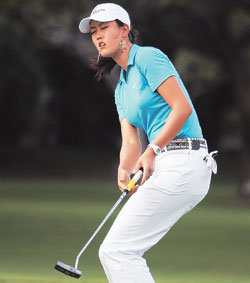 Did even God envy the prominent skills of the "Prodigy?"
Hawaii's winter, southwestern wind, the so-called "Kona," aggravated Michelle Wie (Wie Sung-mi, 15) with its blustery gales of 11 meters per second.
In the first round of the PGA tour Sony open (total prize money: $4.8 million) held at the Waialae Country Club (par 70, 7,060 yards), Honolulu, Hawaii on January 14, Michelle Wie, who started the round on the 10th hole (par 4) amidst the company of 3,000 galleries, kicked off with a shaky start as a long putt, that ranged over 10 meters, was missed, falling just one centimeter short of sinking into the hole.
On the following 11th hole (par 3) Wie made a bogey after the ball fell into the bunker. Wie's unique 1.5 meter birdie came on the 12th hole (par 4), but she committed a fatal double bogey on the 16th hole (par 4), continued to the 17th hole (par 3) via a two-on putt and repeatedly lost strokes on the first and second hole after three consecutive putts.
Michelle Wie, who has gone through a practice course daily in Waialae starting last October, recorded a double bogey, four bogeys, and one birdie to wrap up a 75 for the day. Wie commented, "I've never done better than 75 here."
Michelle Wie showed off a 317-yard stroke at the downhill on the 14th hole (par 4, 433 yards) with a 3-wood, but the harassing strong winds prevented her from making stirring shots. Wie's average drive ranged 255.5 yards. Her putt numbers stayed low at 32, and she tallied a 50 percent average in landing the ball on the green (nine out of 18).
Vijay Singh (Fiji), who managed a one-under-par 69, commented, "It's a harsh wind even for male players. If would have been hard to tolerate for a young player like Wie." Even two-time defending champion Ernie Els, biding for his third, scored over par (one-over-par, 71).
Michelle Wie said, "I was conscious of scooping the ball with a low angle which caused my game to suffer. I would have finished the round satisfactorily if a couple of putts had succeeded in the bottom half so I feel at a loss."
Michelle Wie, who stood tied for 120th place out of 144 participated players with a gap of nine strokes between the leading group including leader Stewart Cink (U.S.), needs to cut the gap to five in the second round in order for her to make it through the cut. Na Sang-wook (Kolon Elord) made three birdies and seven bogeys to place him tied for 104th place (four-over-par, 74).
Sang-Soo Kim ssoo@donga.com