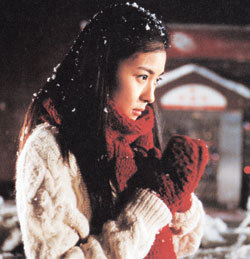 Cha Young-mi (played by Ha Ji-won) is a high school girl who was orphaned when young, yet courageously leads her life by working her way through school. One day, she gets a parcel from an unknown address. What she finds in the box is a receipt for the admission fee of the university she was admitted to, underneath a pair of shoes. Young-mi tries to find the faceless patron who pays her tuition throughout her four years of college, yet the only two clues she has are that the patron she once brushed past is tall and the star sign necklace he sent to her, saying, "Do not try to find me any longer." Young-mi one day starts writing letters to her unknown sponsor, though she cannot post them, and talks to him by herself, saying "Dear daddy-long legs…"
Varying hues of love overlap in the film Daddy-Long Legs to be released on January 13. Daddy-Long Legs, a children's story, reminds Young-mi when she is thinking of her nameless sponsor and serves as the background of the film. Her landlord's one-sided love story he stored in his computer serves as a key to her tracing of the identity of her "Daddy-Long Legs." She becomes a radio program writer after working day and night and falls in love with Kim Joon-ho, played by Yeon Jeong-hoon, who works in the broadcasting company's data room. The feelings they have for each other are a point of departure as well as destination for each different love story.
Actors and actresses in the film were reportedly told again and again to "relax and take it easy." The film plainly bears signs that they tried to control their emotions and purposely cut down on overly emotional scenes. Its leading stars are Ha Ji-won, a box-office star, and Yeon Jeong-hoon, a promising young actor. Yet, they only gaze at each other and there's no kissing or even hugging in the film. Jeong Joon-ha (playing the producer) and Shin-I (who plays Young-mi's fellow writer) were evidently hired to add special taste to the film with their uniquely comical characters, but told to control their mischievousness.
Touching settings and lines still add color to this controlled love story, though they are as hackneyed as pop song lyrics or romantic novels for teens. The characters in the movie are so shy that they even can't say, "I love you," after 10 years of one-sided love. They take a walk early in the morning or have a date late at night at an amusement park. Young-mi receives a big teddy bear with a note on it that reads, "hug me when you feel lonely," when she is fatigued by exhausting relationships at work. The moment they know they're in love, they're ill -fated to part with each other for good due to a predetermined death.
Lines in the film read, "You cannot hide your cough and love," and "Do you know the story about the stars? One's love reached the sky and began turning into stars in the sky."
Looking at the sweet episodes and words in the film we have read or heard of at least once somewhere, or used while dating someone, we almost see the reason why the program lets its stars control their emotions. The film doesn't want viewers to get immersed into the actors or the story. Rather, it wants to let viewers remember their previous loves and the feelings they had at that time, and sympathize.
Another indispensable part of the movie is its music. The rendition of "Beautiful Dreamer" by S. Foster, "You are only lonely" by J.D. Souther, and "Love like spring rain and parting like winter rain" by female rocker Yim Hyun-jeong keeps the emotional tone alive in the movie, an analogue-style love story.
Yeon Jeong-hoon, who played Joon-ho, had to build a character by controlling his emotions more than anyone else. The 27-year-old, 180-cm-tall young man acts as the good guy, Joon-ho, whose health falters day by day, by walking slowly with his shoulders shrugged. Yeon explained Joon-ho's inner feelings, saying, "When one's love is constrained, it is prone to get deeper," adding he had a hard time because of director's order to "not smile."
Director Gong Jeong-sik, who debuted with this movie, said, "I don't care even if love of this kind is not seen in the real world. I just wanted to portray the placid love like in stories."
The face of the faceless "daddy-long-legs" already appeared in what Young-mi said to herself while striving to find him in the beginning. "I feel I am not alone in this world. I feel someone's watching me."
The film will be released on January 14 and is rated PG-13.
Eun-Ryung Chong ryung@donga.com