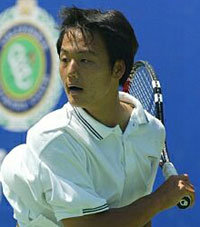 Kim Sun-yong (17, Yangmyeong High School, photo), a young, up-and-coming player who will lead the next generation of Korean tennis, will be the top in the world junior ranking.
Kim, currently fifth ranked, will become the top ranked for the new year, which International Tennis Federation (ITF) will announce on January 4 according to Korea Tennis Association on December 29.
As the current top ranked players, who will turn 19 years of age next year including first ranked Gael Monfils (France) and fourth ranked Chun Woong-sun (SMI Academy), will belong to the senior section next year, Kim is now ranked first, based on the total scores in various ITF games, with 836.25 points.
It is the first time in 14 years for a Korean male player to rank first in the world junior ranking since Song Hyeong-geun, a coach of SMI Academy who teaches Kim Sun-yong, did as a sophomore at Mapo High School in 1991.
About the ranking, Kim said he was very happy to be top ranked in the first ranking of the new year and that he would take it as a spur to work harder.
Kim, who played tennis from an early age because his father ran a tennis court, is thought to be a promising player with a tall 186cm stature. He won the championship this year in the Japan Open and Thailand Open, which are considered as top class games, and also the Lee Deok-hee Cup world junior game, attracting attention as "a second Lee Hyeong-taek."
Choo Won-hong, the head coach of Samsung Securities who found Kim as a first year middle school student and have supported him thus far, said that he has enough qualities such as a natural talent for tennis and a dauntless desire for victory to become a top player.
Kim, who received "first place in the world" as his new year's present, aims to win the championship in next year's junior section of the four Grand Slam games. Kim made it to semi-quarterfinal in both the Australian Open and the French Open this year. He recently improved his serve speed to 190km/hour through hard training of six hours daily and also strengthened the backhand swing from both sides. Furthermore, he increased his weight from 70kg to 75kg to enhance his power and is focusing on weight training.
Kim is scheduled to sign a contract to join the Samsung Securities team with his one-year senior Chun Woong-sun early next year, and will also depart Korea on January 13 to prepare for the Australian Open, the first major of the season.
Jong-Seok Kim kjs0123@donga.com