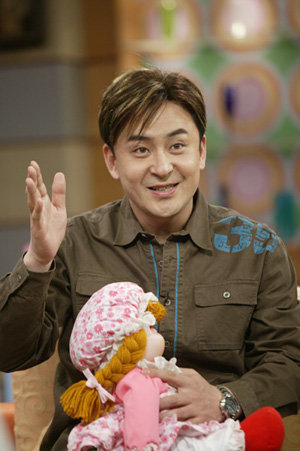 "I never thought it would survive this long. The crew was worried about the eccentric lectures." So says 40-year-old instructor Moon Dan-yeol of "English Café" that airs from Monday through Friday at 7:45 p.m., and which finally hit its 600th episode on December 22.
As early as August 26, 2002, when the first lecture aired, the only person sure of the success of instructor Moon's teaching methods of singing and dancing to a band was Moon.
"Bloopers abounded. The stage director said it was 'too bizarre,' and requested that I 'don't overdo it' a lot of the time. Nowadays the staff dances along with us while recording."
Instructor Moon introduced his eccentric teaching style as 'Scene Reconstruction.'
"Scenes are composed of three Ss, like sound, structure, and situation. We train 'sound' by moving to the rhythm of the music, learn 'structure' with body movements, and 'situations' through skits."
Instructor Moon is a 'native' English instructor who has never lived abroad. Starting his English education in the third grade of elementary school, he begun to teach elementary students conversational English by the time he reached his third year of junior high. Having majored in theology at Yonsei University, he spent 13 years as an institution instructor after his graduation before finally landing his job at EBS.
"The first time I spoke with an American was in middle school. I thought foreigners were different because we didn't look alike, but the joy of communication at that moment…"
Instructor Moon advised, "Languages exist between relationships, so studying is effective when you imagine having a conversation with someone."
As a special 600th episode, guest singer Choi Hun stars and learns English together. The instructor observed that singers had the best pronunciation out of all the entertainers, and that Choi Heon was not so bad himself.
Jin-Yeong Lee ecolee@donga.com