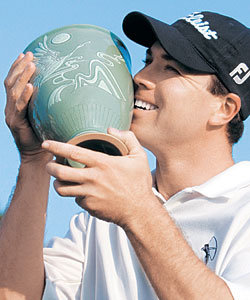 Becoming the $1 Million Winner Using the Other Player`s Putter
In the final round of Asia`s first PGA official 2004 Shin-Han Korea Championship tournament (total prize fund of $3.55 million, $1-million for winner`s check), which took place in JeJu island, Jungmun GC (par 72) on the 28th.
Arron Oberholser (29 USA) curtailed three strokes with five birdies and two bogies and out-passed Na Sang-wook (20 Kolon Elord) and Miguel Angel Jimenez (Spain) by two shots and claimed the championship wrapping up with four under-par, 284.
The 12th (par four) hole actually became the match-deciding point. Runner-up Jimenez, with a shot behind, committed an unbelievable decisive bogey via three putts from a one-birdie chance and slipped away to take the tie. Rather Oberholser, with a two-point lead, sunk a birdie on the 13th hole (par three) and confirmed victory.
Oberholser, who is currently standing in 52nd place ($1.35 million) in the total prize money list this season, is an anonymous player who entered the PGA tour last season after earning two wins in the second division stage. He stands with a winless record this season with his best as a runner-up in the Wachovia championship.
Oberholser enjoyed his victory since his debut two years ago in the Shinhan Korea Golf Championship, which is not a PGA official but a tournament with numerous participation of PGA players.
His first victory was earned with lots of twist and turns. He wrecked his putter after losing his composure due to his bogey shot with three putts on the 10th hole in the first round. Oberholser stood firm with a even-par in the first round even though conducting putts with pitching wedges throughout the remainder of the round and used a putter that he borrowed from his companion, Tom Pernice, Jr., from the second round to the fourth.
Oberholser, who clutched $1 million by using a friend's putter, smiled and said, "I should give a bottle of wine to Tom who lent me a putter."
Na Sang-wook, who started off with a two-stroke difference with the leader standing third place, recorded four birdies and two bogies to cut two shots and made his best mark of the season with tied second place (two under-par, 286).
Na commented, "I lost the chance to win because I couldn`t cut the gap in the opening half. But I`ve learned a lot from this tournament. Especially, I won`t forget the support the fans gave me."
Choi Kyung-joo (Superior, Taylormade) struggled with a 28th standing (11 over-par, 299), Yang Yong-Eun (Kasco) ended up with tied 11th place (three over-par, 291), Jang Il-jae (Hite Beer) recorded tied 26th place (10 over-par, 298) and Park Noh-suk (P&TEL) notched 33rd place (16 over-par, 304).
Sang-Soo Kim ssoo@donga.com