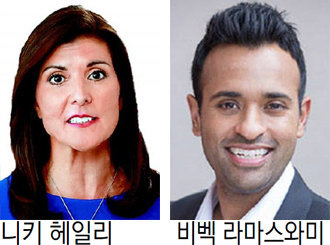 The New York Times and other media outlets reported on Tuesday that Indian Americans are rapidly climbing U.S. political ranks, including two Indian American candidates running for the 2024 Republican presidential primaries. Indian-descent Bobby Jindal, who served as the 55th governor of Louisiana ran for the presidential primaries in 2016, but it is the first time that more than two Indian Americans are running for the top job.
Nikki Haley (age 51), former U.S. Ambassador to the UN who announced her bid for the presidency on February 14, has Sikh parents who immigrated to the U.S. from Punjab, India. Haley converted to Christianity after marrying a white commissioned officer but continues attending various Sikh religious events and underpin her Indian roots.
The parents of Vivek Ramaswamy (age 38), an Indian-American entrepreneur who also announced his presidential bid on February 21, are Hindu immigrants from Kerala, southern India. After majoring in biology at Harvard and graduating from Yale Law School, Ramaswamy founded Roivant Sciences, a pharmaceutical company, and became a millionaire.
Indian immigrants are reportedly often highly educated and, because of the legacy of British colonization, often speak English, which lowers barriers to political engagement. India recently surpassed China to become the most populous country in the world. On top of that, it is increasing its influence on the international community based on its rapid economic growth.
Indian Americans are making even more huge strides in U.S. business circles. CEOs of major "America, Inc" companies, including Google, Microsoft, IBM, and Starbucks, are all of Indian descent. Across the Atlantic Ocean in Britain, Rishi Sunak, a Hindu, has been serving as the first non-white Prime Minister since October 2022.
empty@donga.com