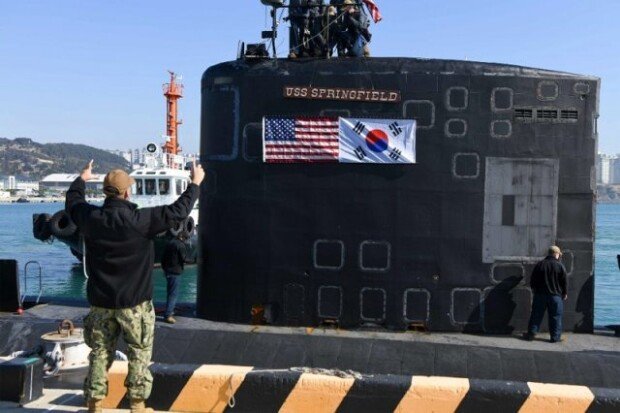 "Springfield" (SSN 761, 6,000-ton), the Los Angeles-class nuclear-powered attack submarine of the U.S. Navy, arrived at the Busan Naval Base of Operations on Thursday. It is the first deployment of a U.S. nuclear submarine to the Korean Peninsula in four months since the end of October last year. Recently, South Korean and U.S. defense officials jointly observed the interior of a Submersible Ship Ballistic Missile Nuclear (SSBN) right after participating in the extended deterrence operation exercise (Table Top Exercise, TTX), assuming a North Korean nuclear attack scenario in Washington, D.C. The U.S. has raised the stakes for North Korea by revealing the deployment of U.S. strategic assets on the Korean Peninsula. It also signaled that the U.S. would not ignore North Korea's armed provocations in response to next month's joint U.S.-South Korean drills.
Photos released by the U.S. Pacific Fleet on social media on Friday (local time) show Springfield arriving in port with the American and Korean flags flanking the hull's bridge tower and a welcome ceremony by the U.S. Navy. "#USSSpringfield is one of five Los Angeles-class fast-attack submarines forward-deployed to Guam and routinely operates in the U.S. 7th Fleet area of operations, conducting maritime security operations and supporting national security interests," the U.S. Pacific Fleet explained. "The Springfield is understood to be resupplied at the port of Busan and will remain in the vicinity of the Korean Peninsula until next month's U.S.-South Korea joint military exercises to conduct surveillance and deterrence missions against North Korea," a military source said.
This means that if North Korea were to use the drills as an excuse to launch a high-level provocation, such as an intercontinental ballistic missile (ICBM) launch or a seventh nuclear test, it could immediately demonstrate its extended deterrence posture.
Springfield can operate underwater for up to 90 days without surfacing and has a powerful arsenal that includes dozens of Tomahawk cruise missiles capable of delivering precise strikes on targets up to 3,100 kilometers away, torpedoes, and mines. "We have made it clear that we will actively respond to North Korea, which has been blatantly making nuclear threats against the U.S. and South Korea by launching Hwasong-15 (ICBM) and a super large radiation gun (KN-25), with an extended deterrent that is stealthier and more lethal than B-1B strategic bombers," said a military official.
The U.S. Indo-Pacific Command recently disclosed on social media that its unmanned aerial vehicle Reaper (MQ-9), known as the "assassin in the sky," participated in the Cope North joint air exercise between the U.S., Australia, and Japan off Guam. The drills aim to deter military threats from North Korea and other countries, so disclosing the Reaper's participation lends weight to the analysis that it is part of a warning to North Korea.
In October last year, the U.S. deployed eight Reapers to a Self-Defense Forces base located in Kagoshima Prefecture, Kyushu, Japan, and they were put into operational service. With a range of approximately 5,900 kilometers and armed capabilities, the Reaper drones can cover most of North Korea from this base, which is about 950 kilometers away from Pyongyang.
Sang-Ho Yun ysh1005@donga.com