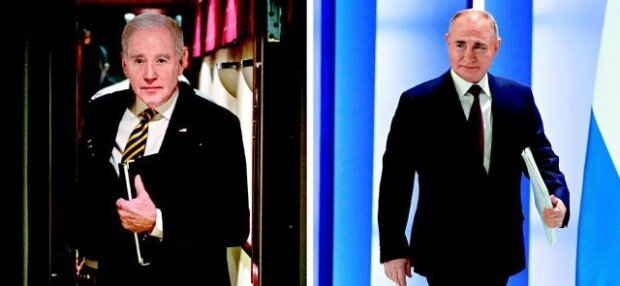 U.S. President Joe Biden and Russian President Vladimir Putin gave a "counteroffensive speech" ahead of the first anniversary of Russia's invasion of Ukraine, which falls on Friday. This is the reason why there are observations that the confrontation between the free democracy camp led by the U.S. and the authoritarian camp centered on Russia and China has become more intense.
On Tuesday (local time), President Putin gave a State of the Union address to members of the Senate and House of Representatives, military commanders, and soldiers at the Great Gostiny Dvor, a battleground in the center of Moscow, the capital of Russia. He strongly criticized the West for increasing aid to Ukraine, emphasizing the achievements of the "special military operation" announced when it invaded Ukraine a year ago.
The U.S. president, who made a surprise visit to Ukraine the day before, is scheduled to address (practically) global citizens in Warsaw, the capital of Poland, on the same day. Poland is at the forefront of the North Atlantic Treaty Organization (NATO) and shares a border with Ukraine. It is reported that in the speech, President Biden will emphasize the achievements that led to the unity of the West and stress that the great offensive that Russia is seeking will not be successful.
The New York Times commented on the speeches of the two leaders, which lasted seven hours apart: "The war in Ukraine is about whether the world order designed by the West will survive the new challenges from Russia and China. The conflict has become a proxy war between the two "cold warriors."
Eun-A Cho achim@donga.com