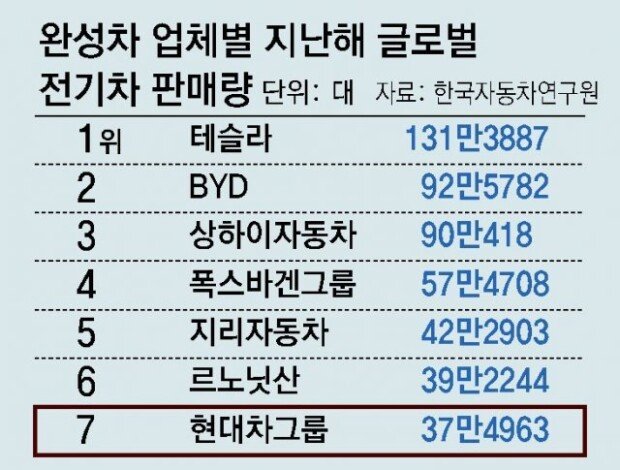 Despite a shortage of parts, high-interest rates, and inflation last year, "one in 10" vehicles sold were electric vehicles (EVs). In 2022, Hyundai Motor Group, which launched new vehicles, including the Ioniq 6 and expanded its sales regions, sold 374,963 EVs, up 52.9 percent year-on-year, ranking seventh in global EV sales.
The Korean Automotive Research Institute released a report titled "Analysis of Global Electric Vehicle Sales Performance in 2022" on Monday. According to the report, 8,020,555 electric vehicles were sold in the global market, up 67.9 percent from the same period last year. This represents 9.9 percent of the total 80,631,101 vehicles sold during the same period. Previously, EV sales accounted for 2.9 percent in 2020 and 5.9 percent in 2021.
By country, China remained the world's No.1 EV market (63.3 percent share), selling 5,075,286 EVs, up 86.1 percent from 2021. Europe and the U.S. sold 1,622,895 and 802,653 units, up 25.5 percent and 58.9 percent year-on-year, respectively. South Korea was the fourth-largest global market, selling 162,987 units (up 61.2 percent) last year.
Tesla sold 1,313,887 units, more than any automobile company last year. It was followed by Chinese companies BYD (925,782 units) and Shanghai Automobile (900,418 units), which are dominating the Chinese domestic market. Hyundai Motor Group ranked seventh, behind Volkswagen (574,708 units), Geely Motors (422,903 units), and Renault Nissan (392,244 units), down one notch from the previous year.
Startups such as Livian (24,337 units) and Lucid (7,180 units), which entered the EV market as late entrants with the goal of becoming the "next Tesla," fell short of their own production targets and market expectations.
Jae-Hyeng Kim monami@donga.com