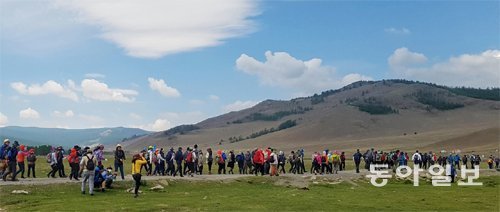 Jeju Olle trails open in Mongolia. It is the second time that the Jeju Olle brand is exported, following its opening of trails in Kyushu, Japan in 2012. The Jeju Olle Foundation (president Suh Myung-sook) has developed hiking trails in Mongolia in cooperation with the Jeju Tourism Organization and Ulaanbarrtar city. The Mongol Olle Route 1 and 2 have opened consecutively on Sunday and Monday. About 500 Olle travelers from Korea and members of Mongolian hiking clubs have participated in the opening ceremony of Route 1 and Route 2. 
 
The Mongol Olle Route 1 is stretched across the Bogd Khan mountain for about 14 kilometers. The first trail begins at Henhor village 25 kilometers away from the east of Ulaanbarrtar city. Travelers are welcomed by vast plains and ridges of the mountain after passing by small but beautiful houses. The Genghis Khan course, Route 2, starts from the Grkhi-Terelj National Park and ends at the same point. The 11-kilometer course presents quite different views between the flatland in the beginning and the mountain section in the end of the trail and hikers can enjoy the true nature of Terelj National Park, a UNESCO World Heritage site. Local residents volunteered to develop the course as in the case of Jeju Olle. "I am certain that the Mongol Olle will contribute to stress the value of Mongolia as an eco-tourism destination," said Batsukh Davgajamts, head of Ulaanbaatar city tourism participated in the opening ceremony. "We will take a good care of the Mongol Olle with support from our citizens based on the founding mission of Jeju Olle."

The Jeju Olle plans to develop two more courses by 2019. The foundation will support the Mongol Olle in various ways by providing course repair and maintenance, method of making Jeju Olle souvenir Ganse (a doll made by Jeju women with shabby fabrics), operating know-hows for tourist information center, and others so that it can establish itself as a destination of self-sustaining eco-tourism with profit model. "We will continue to strengthen international network of hikers by expanding global projects such as Jeju Olle sister and friendship trails and engage in activities to spread Korean culture and its value to the world," thhe president of Jeju Olle Foundation said.
Jae-Young Im jy788@donga.com