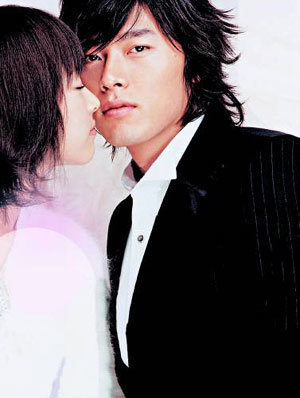 Who is Kim Tae-gyun? He is a talented movie director who specializes in films aimed at audiences ages 12 and up. Polishing his ability to express youth sensibilities with the movie, "Volcano High," Kim became a successful director by making, "Romance of Their Own" in 2004.
Older-generation critics assessed "Romance of Their Own" as "childish," but it became a smash hit. It amassed 2.5 million viewers thanks to the passionate support from teenage moviegoers.
Kim's new movie, "A Millionaire's First Love," is obviously aimed at teenagers as well. The story is how a grandson of a chabeol family (played by Hyeon Bin) realizes true love by meeting Eun-hwan, a girl suffering from an incurable disease, played by Lee Yeon-hee, in a small village in Gangwon Province. The director's formula of pairing a star actor and a new actress to create a tear-jerking story of an incurable disease is the same one he used in "Romance of Their Own."
It is impossible to assess the new movie in a word. That is because Kim's films, which express teenage sensibilities through the keywords of romance, love and eternity, can be assessed differently depending on a viewer's age. This means that his movies can be seen as romantic and touching, or childish and unrealistic.
The following is what a teenage female fan of the movie might say about it:
"Oh, fabulous Hyeon Bin! He pulls out several checks from his wallet and throws them with a tired look. Under the terms of his grandfather's will, Hyeon Bin has to endure life in a rural high school in order for him to inherit hundreds of billions won. He is a prince who tastes the life of ordinary people for fun."
"Hyeon Bin in this movie is richer, more arrogant and hotter than 'Samshik,' the character he played in 'My Lovely Samsoon.' It is fair to say that his character is an upgraded version of Samshik. He lives with Eun-hwan, who is dying from a disease, and takes care of her. He lets her head rest on his arm. That is exactly same as my dream of living with my loved one in a space for just the two of us."
She adds, "Hyeon Bin's lines for Eun-hwan are pure poetry. I couldn't breathe when he whispered to her, 'When I'm with you, the night turns to day. That's because you're so bright.' He puts woolen socks on Eun-hwan's feet, just like the prince put glass slippers onto Cinderella's. I would be so happy if I were Eun-hwan."
The following is what a man in his 30s, filled with dissatisfaction from the moment the movie started, might say:
"It is a comedy right from the title. Does it make any sense that a man would give up hundreds of billions of won because of love? And for some reason, it's always raining or snowing in the movie. The lines are too childish. I managed to endure it when Eun-hwan said, 'I feel like I will go to hell because I'm too happy.' But I felt sick when Hyeon Bin kissed Eun-hwan, saying, 'Do you know why people close their eyes when kissing? That is because the other person is too gorgeous.' I know that the author was the author of 'Lovers in Paris' and 'Lovers in Prague,' but this 'prince story' is just too unrealistic."
"I accept that Hyeon Bin is good-looking. But what's the difference from 'My Lovely Samsoon?' And there is no story in this movie. The movie just tries to make audience cry. Repeating lines similar to ballad song lyrics, the movie just continues on until the audience cries. It is an old tear-jerking movie."
"The only valuable element of this movie is actress Lee Yeon-hee, who plays Eun-hwan. She appears to be new to movies, but her performance is as good as that of Hyeon Bin. When smiling, she looks innocent and experienced at the same time, which is so attractive. Oh, how I wish I could go back to my teens…"
The movie opens today and is rated for ages 12 and up.
Seung-Jae Lee sjda@donga.com