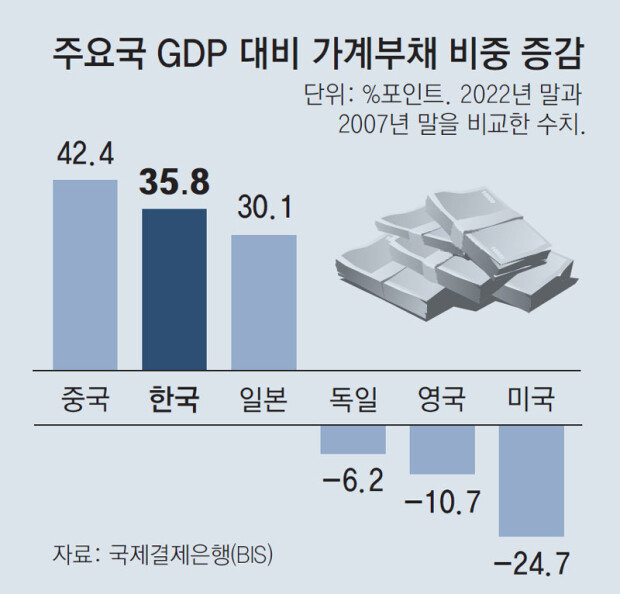 On Friday, Korea commemorates the 15th anniversary of the global financial crisis, which was triggered by the Lehman Brothers' bankruptcy in the United States on Sept. 15, 2008 (local time). In the aftermath of this shock, Korea stood out in 2009 by achieving an unexpected positive growth rate of 0.8% while many other countries experienced negative growth. It was hailed as a model student weathering the financial crisis. However, a decade later, the landscape in Korea has significantly changed. In the midst of multifaceted global crises, including high inflation and exchange rates, Korea is now grappling with the world's highest levels of household debt. Progress in industrial structural reforms has been sluggish, and the country finds itself mired in the quagmire of long-term low growth.
This information stems from an analysis conducted by the Dong-A Ilbo on Thursday, which considered various indicators, including data from the Bank for International Settlements (BIS) and the International Monetary Fund (IMF). In Korea, the rise in household debt as a proportion of gross domestic product (GDP) between last year and 2007 ranked second highest among the G20 nations, with China leading the way. Additionally, the ratio of household debt to the overall economic size stands as the second highest among major countries, trailing only behind Australia. Meanwhile, government debt relative to GDP more than doubled during the same period. In its 'Monetary and Credit Policy Report' released on Thursday, the Bank of Korea assessed the situation, stating, "In contrast to other major countries, household debt in Korea has continued to climb without any significant deleveraging, reaching a level that poses a threat to both macroeconomic and financial stability."
The economic momentum is diminishing as well. The government's projection for this year's economic growth rate stands at 1.4%, but there is a chance it may decline even further. Some forecasts even suggested that Korea's growth rate for this year could dip below Japan's, marking the first time in 25 years.
Korea's growth rate has remained beneath the Organization for Economic Co-operation and Development (OECD) member countries' average for two consecutive years since 2021. "In the context of Korea's industrial landscape, the departure of struggling existing companies is dwindling, and the market has become so saturated that there is a lack of entry from innovative new companies," said Professor Seok Byeong-hoon, an economist at Ewha Womans University. "Considering the deteriorating macroeconomic indicators, addressing any future global economic crises will become increasingly challenging."
Seong-Ho Hwang hsh0330@donga.com