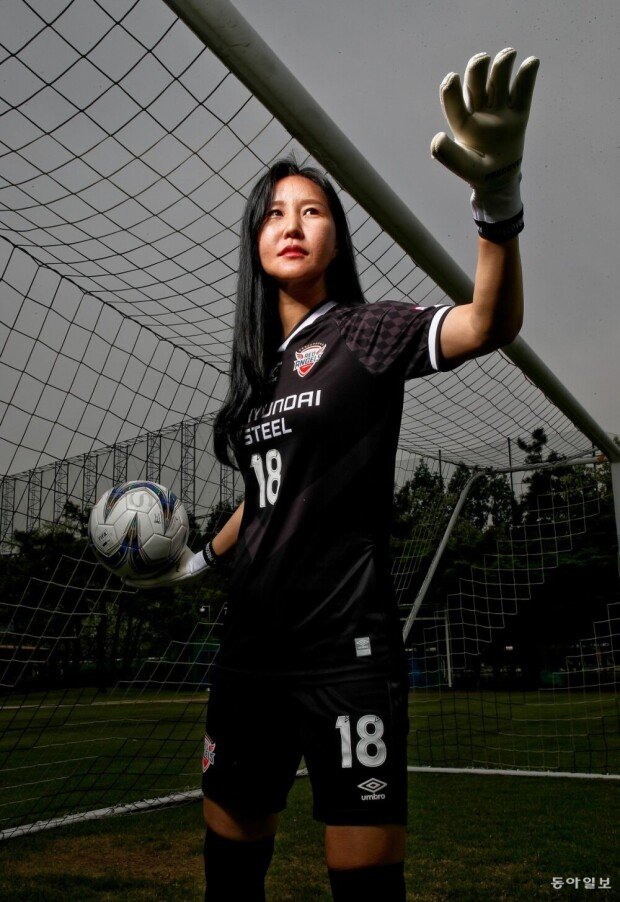 "You become desperate when you realize this is your last chance. It's like that for me right now," said Kim Jeong-mi, goalkeeper of the Korean women's national football team, when asked how she felt about ahead of the 2023 FIFA Australia-New Zealand Women's World Cup Games, which kicks off on July 20. Kim met with The Dong-A Ilbo for an interview at the Hyundai Steel Sports Complex in Incheon.
Kim is known as a living legend of women's soccer in Korea. Since making her debut as a national team member at the AFC women's championship in June 2003 at 19, she participated in 135 A matches over the last 20 years, the third highest after Ji So-yeon and Cho So-hyun's 144 matches. Kim competed as the leading player at the U.S. World Cup Games in 2003 and Canada in 2015. The Australia- New Zealand World Cup games may be Kim's last World Cup. However, Kim mentions that Director Collin Bell says age doesn't matter. "I would like to dispel prejudice against age," she says. Korea, which ranks 17th for women's soccer on FIFA, is under Group H, competing against Germany (no. 2), Columbia (no. 26), and Morocco (no. 73). Korea aims to make it past the round of 16, its best record in 2015.
North Korea is frequently brought up when Kim's career is mentioned. So far, South Korea's score against North Korea is one win, three ties, and 15 losses. It won only once at the EAFF in 2005 when Kim contributed to a clean sheet (without losing any points) performance as a goalkeeper. Kim was avoided by the North Korean team, who said Kim had played too long as a goalkeeper in the E-1 EAFF Championship 2017. In 2019, she hurt her Achilles' heel ahead of the France World Cup games. She could not participate in the games, and she considered retiring. However, she followed her coaches' advice on weight training to build muscles. "When I returned, the coaches said that my kicks had improved," Kim said. "I erased the word retire from my thoughts and worked hard for four years."
Kim will be competing with Yoon Yeong-geul (of Sweden) for the main goalkeeper role for the upcoming World Cup games. They both played the main goalkeeper in the two A matches with Zambia, which were held in Korea last month. "Director Bell is apt to foster just the right amount of competition between team members," Kim said. "He focuses on always helping players have good conditions, which boosts synergy for the team."
"If you are desperate, your mindset to training completely changes," Kim said, mentioning the word 'desperation' again. "Once you realize there is no second chance, you can deal with the training you might have otherwise given up. I hope that this kind of desperation helps the team in a good way."
Bae-Jung Kim wanted@donga.com