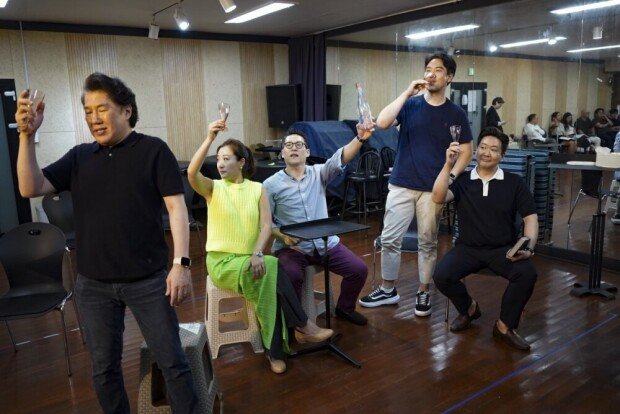 The year 2024 marks the 100th anniversary of the death of Giacomo Puccini (1858-1924), master of modern Italian opera who created a quarter of the world's opera productions. Various festivals and events are celebrated throughout the world, with Puccini operas scheduled nationwide for fall in Korea.
The Korea Culture and Arts Center Association will perform 'La Bohème', one of Puccini's most well-known works, starting at the Jangheung Culture and Arts Center in Jeollanam-do on October 6, Namhansanseong Art Hall in Gwangju, Gyeonggi Province on the Oct 13 and 14, and Suncheon Culture and Arts Center in Jeollanam-do on the 20th and 21st. Halma Cine Rabbit, a performance planning and production company, participated in the co-production. Sopranos Yoon Jeong-nan and Lee Da-mi will play the female protagonist Mimi, tenor Shin Sang-geun and Kim Hyo-jong will play the male protagonist poet Rodolfo, and baritone Kang Hyeong-gyu will play the role of Rodolfo's friend, the painter Marcello.
"We plan to use beam projectors and media art technology to transmit images to the back of the stage , the left and right walls of the audience to create the atmosphere of Paris in the 19th century. The use of beam projectors have become more common in opera performances, but it is rare to use three sides for projection, which will provide a more enhanced experience," said Jang Gil-hwang, CEO of Halma Cine Rabbit and in charge of production, said at roundtable meeting held on Oct 18. "The audience will be feel as if they are present in the attic in Acts 1 and 4, the cafe in Act 2, and the snowy outskirts of Paris in Act 3."
Gyeonggi Seongnam Arts Center will host Puccini's 'Madame Butterfly' at the Seongnam Arts Center Opera House from October 12 to 15. Director Jeong Ku-ho, who works in both arts performance and fashion, has designed an unconventional production creating the stage into a space background in the 2576, instead of the original stage of 19th century Japan."I changed the background to eliminate the imperialistic elements of the original work and the class differences between Pinkerton and Cho Cho San," explained Jeong.
'Tosca,' whose background is set during the Napoleonic Wars and considered 'the most masculine Puccini opera,' will be performed at the Gangdong Arts Center Grand Theater Han River in Seoul on October 13 and 14.
Puccini's final masterpiece 'Turandot' will be performed at the Aram Theater in Goyang, Gyeonggi-do on November 11 and 12. It will be directed by Director Son Jin-chaek after the previous Turandot production which will be held at the Seoul Metropolitan Opera of the Sejong Center for the Performing Arts from October 26 to 29.
gustav@donga.com