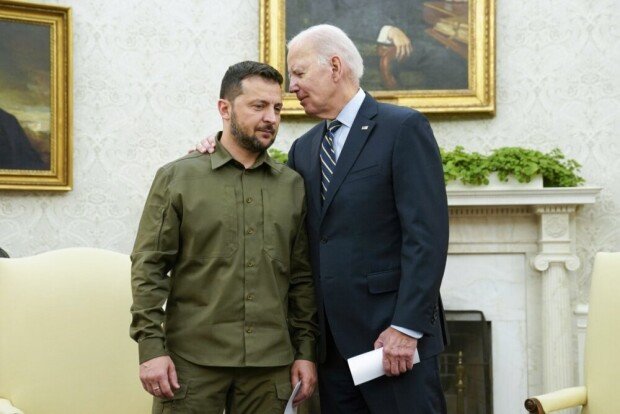 Amid growing fatigue in the United States over the prolonged war in Ukraine, which has been ongoing for more than a year and a half, U.S. President Joe Biden pledged a $325 million military aid package to Ukrainian President Volodymyr Zelensky during his first visit to the United States in about nine months. However, Republican hardliners have reacted coldly, sending a letter to the White House demanding an end to its support for the war.
President Biden and President Zelensky met at the White House in Washington, D.C., on Thursday to discuss military assistance for Ukraine. This meeting marks the first time the two leaders have convened at the White House in over nine months, dating back to last December. After the meeting, President Biden remarked, "Russian President Vladimir Putin was mistaken in thinking he could undermine the determination of nations worldwide that support Ukraine." He went on to affirm, "We remain steadfast in our support for Ukraine." President Biden also stated, "In partnership with our allies and friends, we will continue supplying Ukraine with weapons systems to aid in the restoration of its territory."
President Zelensky's visit comes at a time when Ukraine is in desperate need of U.S. military assistance, having failed to make significant gains since launching a major counteroffensive in June of this year. President Biden has requested Congress to approve an additional $24 billion in aid for Ukraine, but he faces strong opposition from hardline Republican lawmakers who are unhappy with the prolonged war. According to The Hill, at least 24 senators and members of the House of Representatives from the opposition Republican Party have sent a letter to the White House opposing further support for the war in Ukraine and demanding transparency in the allocation of funds. House Speaker Kevin McCarthy, a Republican, had previously declined to allow President Zelensky to address the House of Representatives on Thursday during his visit to Washington.
Eun-A Cho achim@donga.com