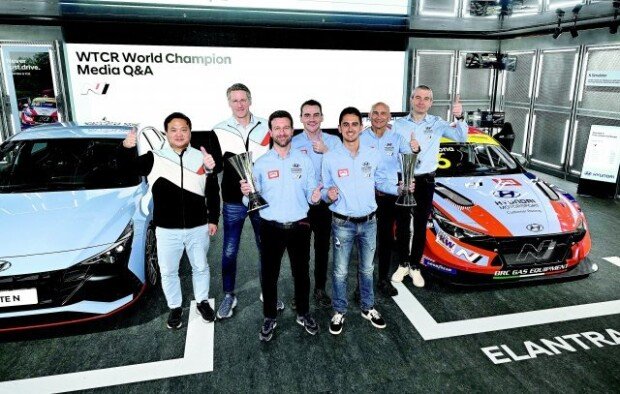 Hyundai Motor Group announced an ambitious plan to join EV racing games based on the momentum gained by winning a racing competition among combustible engine cars with "N Brand" last year.
At a press conference held in the headquarters in Seoul on Wednesday in celebration of earning the double titles in the World Touring Car Cup, Till Wartenberg, head of N Brand Management Motorsport, said that N Brand keeps pushing its boundaries to prepare for electrification, which will lay the basis for embedding sustainability in the brand.
With HMSG founded in Germany, 2013, South Korea's No. 1 carmaker reached its peak in last year's WTCR. "BRC Hyundai N Squadra," a two-driver team, drove Hyundai's circuit racing car Elantra N TCR to gain two titles both as an individual driver and a team. For the first time, the company earned two titles in one go.
The WTCR is an international touring car championship where professional racers drive cars modified according to the competition's rules. Thus, winning this competition automatically proves that the corresponding manufacturer has the highest level of technical prowess among competitors.
Mikel Azcona, who was awarded the best individual driver, said that he was happy that he won the championship last year, the first season that he spent with Hyundai. Gabriele Tarquini, the 2018 WTCR champion who currently works as BRC Hyundai's technical director, emphasized that the Elantra N features high power and speed because it is derived from one of the best quality mass-produced cars.
HMSG, the racing champion of combustible engine cars, refused to stay on its laurels but showed ambitions for the EV racing sector. The Veloster N ETCR already stood out in the 2022 Electric Touring Car Racing manufacturer sector, where it ranked second after the Cupra by Setra, a subsidiary of Volkswagen. Hyundai is expected to launch the IONIQ 5, a high-performance electric-only model, this year.
Wartenberg said drivers might find it hard to handle EVs, but this is also part of their exciting journey, expecting the company to constantly join the ETCR.
Hyundai also announced a plan to nurture South Korean drivers. Chang Ji-ha, head of Driving Experience and Motorsport at N Brand Management Motorsport, said, "We have trained junior drivers to prepare them to participate in European competitions starting this year," expecting South Korean racers to start to play in Europe this May. "Just as we have seen many junior figure skaters follow Kim Yuna, we also work hard to create an environment to make it happen in the racing field."
hee@donga.com