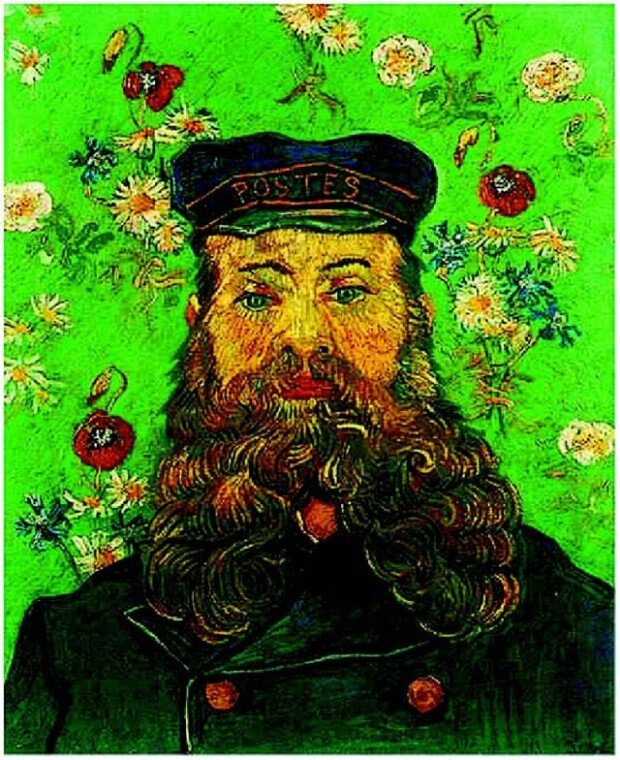 A man in a blue postman uniform is staring forward. His sideburns and parted beard catch one's eyes. The green background features flowers. The name of the guy in the painting is Joseph Roulin. He was a postman who delivered mail to Vincent van Gogh in Arles. Gogh painted six portraits of him. Who was this postman frequently becoming the subject of the famous painter's paintings?
Gogh arrived in Arles in Southern France in February 1888, dreaming of an artist community. Roulin was a postman who worked in the station in the city. Gogh often visited the post office to send paintings and letters to his younger brother, Theo, in the Netherlands. Roulin, aged 47 years old, was a passionate socialist and an average father and husband committed to his family. He was willing to become a model for his poor artist friend, who did not have enough money to hire models.
From August 1888 to April 1889, Gogh painted six portraits of Roulin. Three of them have flowers in the background; this painting was the last one. Unlike the subject of the portrait painted with fast brushstrokes, poppies, cornflowers, daisies, etc., are depicted in detail.
Gogh, who had a short life of 37 years, was the happiest in Arles and left many masterpieces. However, after an argument with Paul Gauguin, he cut off his ears and was put into a mental hospital. Unlike his friend Gauguin who left Gogh quickly and suddenly, Roulin comforted and took care of Gogh in the hospital.
Gogh believed it was important to express the subject's personality based on imagination and memory and with solid colors in portraits rather than painting realistically like pictures. This painting was also produced based on his memory after Roulin left for Marseille to earn more money.
A true friend is one who stays next to you and consoles you when you are going through hard times. Red poppy painted in the background represents consolation and comfort. The postman in Arles must have been a true friend for whom he felt grateful and wanted to paint not only times and sixty times or more.