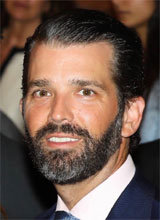 Donald Trump Jr. is preparing to promote his father's reelection. He had been suspected as a key figure behind the Russia Scandal (Russia's alleged intervention in the U.S. presidential election in 2016) but cleared by the Robert Muller Special Investigation Team on March 24. Not only is he echoing and regenerating his father's values, he is also hinting his own ambitions to enter politics. He is seen as a "rising star" and a "reliever" in the Republican Party.
In just four days after he was cleared, Trump Jr. expressed intentions to enter politics. In a Bloomberg Radio interview on March 27, he said that he wouldn't rule out running for office. "My father decided to get into politics at 68," he said. "I'm 41, I've got plenty of time."
His actions are expected to gain momentum after the investigation results. He had been accused as a key figure behind the Russia Scandal as he was reported to have met Russian aides who promised to share information intended to harm Hillary Clinton at the Trump Tower in Manhattan.
Meanwhile, Attorney General William Barr of the Justice Department announced on Tuesday that he would submit a summarized report of the Muller investigation to Congress.
wizi@donga.com