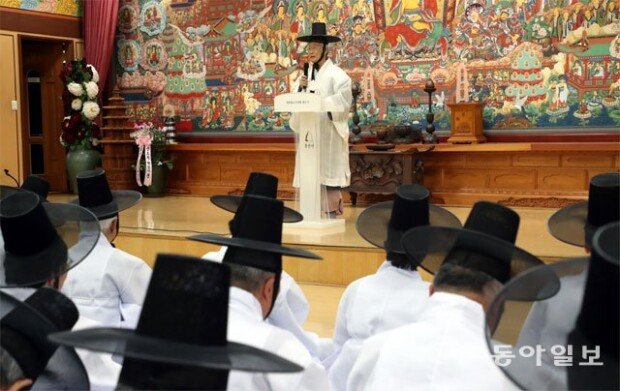 "Scholar Toegye Yi Hwang lodged a petition to the king as many as 73 times, declining an offer to hold a government position. This event, where Yi's last return to his hometown is reenacted, is an opportunity to experience the scholar's spirit of practicing the beauty of stepping back," said Lee Yong-tae, 86, director of the Toegye Studies Institute, at the opening ceremony of the event at the Bongeunsa Temple located in southern Seoul, celebrating the 450th anniversary of Yi's return to his hometown. The event, which is jointly hosted by Dosanseowon and its Scholar Culture Experience Center, provides participants with the opportunity to walk from the temple to Yi's hometown from April 10 to April 21 just like the scholar did some 450 years ago.
After pleading several times with King Seonjo to let him resign from office, Toegye was allowed a temporary return to his hometown on March 4, 1569 on the lunar calendar. Starting his journey back home on March 5, Toegye arrived at Dosanseowon on March 17 by the way of Bongeunsa Temple, Gwangnaru in Seoul, Mieumnaru in Namyangju, Gaheungchang in Chungju, and Danyanghyanggyo in Danyang.
The event will feature lectures from many humanities scholars. The general public are free to participate in the event.
Won-Mo Yu onemore@donga.com