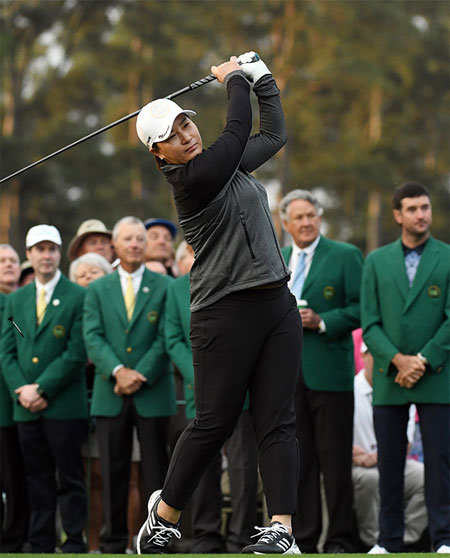 The golf club in a small city named Augusta in Georgia, the United States, opens the most prestigious Masters Tournament among the PGA tours. Several days before the opening of the 2019 Masters Tournament, the last round of the Augusta National Women's Amateur was played on Sunday, which is recorded to be the first women's golf tournament held in Augusta National Golf Club since the club's opening in 1933. The first two rounds of games were held at a nearby club.
Four legendary women golfers who were inducted into the Golf Hall of Fame – Pak Se-ri, Nancy Lopez, Annika Sörenstam, and Lorena Ochoa – started off the tournament before the first round began. Pak became the first to take a T-shot for the first hole on Teeing ground among the four players, making her the first woman golfer take a shot. It was the first occasion even to Pak Se-ri who achieved 25 LPGA victories including five major championships.
The golf legends seemed deeply moved by the fact that they took a shot at a golf club off-limits to women. Pak said that the tournament this year will affect the world and motivate wanna-be golfers to pursue their dreams. Lopez interviewed that she found it hard not to cry and the golf club did the right thing to do. Sörenstam also said that she almost cried when she took a T-shot at this sacred golf club, remembering it as a fantastic and historical moment.
It was as late as 2012 when the golf club allowed women's membership. Former U.S. Secretary of State Condoleezza Rice, one of the first woman members to the club, attended the event with U.S. golfer Bubba Watson who has won the Masters twice. U.S. amateur golfer Jennifer Kupcho, 22, who ranks 1st in the world's women's amateur golf, won the historical tournament this year at 10-under par, 206.
Heon-Jae Lee uni@donga.com