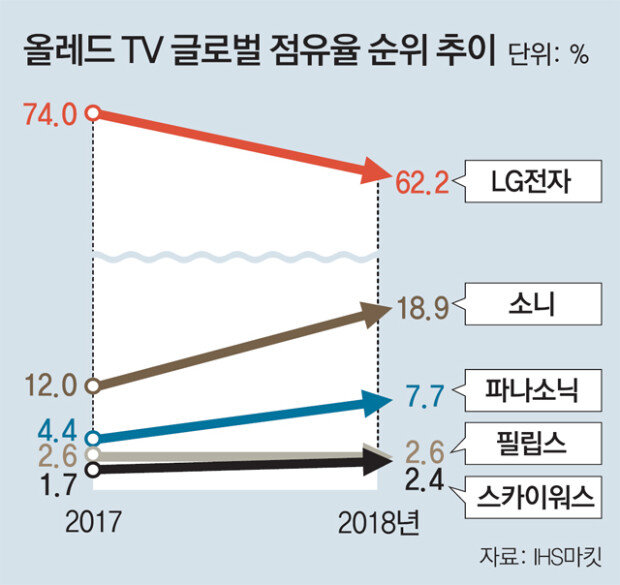 Global TV manufacturers are earnestly jumping into the market of OLED TVs, which are high-resolution premium products. With LG Electronics remaining as No. 1 in global market share, not only Chinese and Japanese companies but European players are entering the market, heralding fiercer competition.
According to sources in the electronics industry on Sunday, the OLED TV segment wherein LG Electronics opened by introducing the first of its kind product in the industry in 2013, surpassed 5 million units in cumulative global sales last year, posting exponential growth.
Fifteen companies around the world are racing in the segment including LG as the market leader. LG Electronics controlled 62.2 percent of the global OLED market last year to remain atop, but saw its market share decline about 12 percentage points from 2017.
Sony and Panasonic, which entered the OLED TV market in 2017, are making aggressive push to increase sales in its home market of Japan by targeting the 2020 Summer Olympics in 2020. Both Sony and Panasonic increased its sales in the Japanese OLED TV market by three times in 2018 from 2017, posting a sales growth rate that far exceeded global sales growth.
Chinese brands such as Skyworth and Conga, which sustained strong growth in the low-cost LCD TV market, have also entered the OLED TV market. They are aiming to use OLED TVs as a breakthrough for increasing their sales, and improve profitability and brand power. Skyworth, the No. 1 player in the Chinese OLED market, expanded its OLED production plant in Chengdu last year in a bid to increase its OLED TV production to up to 1 million units per year.
European brands including Philips, Grundig, and Löwe started producing OLED TVs 2016. Europe is one of the largest OLED TV markets and accounted for 45.5 percent of global OLED TV sales last year. As the market has high uptake for new technology, and the portion of premium products in all industries is higher, the market offers an ideal condition for sale of OLED TVs. LG Electronics is keeping its lead in the European market, but competition has intensified as European brands have started aggressive sales pitch.
LG Electronics plans to put on market unique high-tech products including "8K OLED TV" that can freely control 33 million pixels and "Rollable OLED TV," whose screen can be rolled in to be hidden away in the second half of the year. By so doing, the electronics giant aims to further solidify its market leadership.
Dong-Jun Heo hungry@donga.com