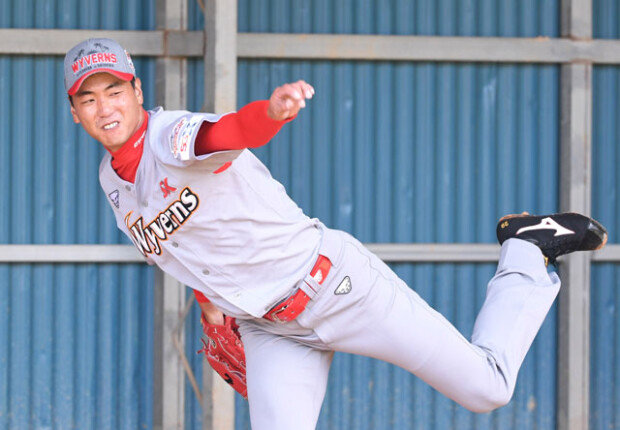 In the Game 5 of the 2018 Korean Series between SK Wyverns and Doosan Bears, Wyverns pitcher Kim Kwang-hyun retrieved three Korean Series rings he had won and showed them to his younger teammates. The three rings with SK's orange logo on them fueled motivation for victory. Hired as closure in the Game 6, Kim presented his team with the championship. Now, he is training at the spring camp to get his hands on his fifth Korean Series ring.
On Wednesday, SK Wyverns had their first training for the year in Okinawa, Japan. The atmosphere surrounding players gathered at Gushikawa Stadium was as warm as the weather, which was reminiscent of early spring. Laughter burst out here and there, and coaching staff and players exchanged words of encouragement with one another. After finishing his bullpen pitching in the morning, Kim looked brighter than ever.
"After we won last year, the atmosphere has lightened up," said Kim. "Sometimes spring camps can be really dark and heavy, but I've realized that there is no point frowning on the field. The more you smile, the better."
Kim's vault is a museum for his entire baseball career. From the four championship rings, gold medal from the 2008 Beijing Olympics, to an MVP trophy, the vault is full of "valuables" as he puts it. But Kim says a bone splint from his elbow is more meaningful than anything else. After getting a surgery before the 2017 season, he took the entire season off for the first time since his professional debut.
The inveterate elbow injury is now a thing of the past. Having reached the ERA at 2.98 with 11 wins 8 defeats over 136 innings in last season's 25 games, the Wyverns ace pitcher is aiming to reach the mark of 200 innings this season. To survive more innings, he has chosen to diversify the type of breaking balls this season. With fastballs and sliders taking up 85 percent of the total, Kim is seeking to enhance his curve, change-up, and splitter during the spring camp to come up with the "third ball."
yesbro@donga.com