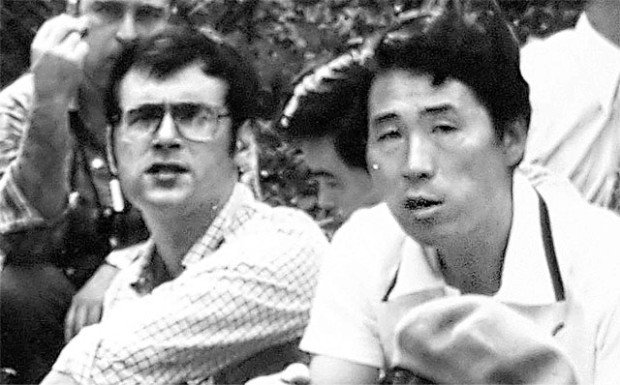 Late Jürgen Hinzpeter, a German reporter, and late Kim Sa-bok, a taxi driver, are to meet at the old May 18 Cemetery in 40 years. They are real-life figures of the movie "Taxi driver."
The May 18 Cemetery deliberation committee approved on Wednesday the burial of the late taxi driver at the previous cemetery for the May 18 democratization movement, located in Mangwol-dong, Gwangju. The committee consists of the Gwangju Metropolitan Government, the May 18 Memorial Foundation and so on. Vice Secretary General of the May 18 Memorial Foundation Lee Ki-bong said that Mr. Hinzpeter and Mr. Kim contributed to revealing the realities of Gwangju in May, adding that he found it meaningful to let them encounter even after both of them passed away.
Kim Seung-phil, 59, the late taxi driver's son, plans to have his father's buried body cremated at Cheongnyangni Catholic Church so that his grave can be relocated to the Hinzpeter Memorial Garden at the old May 18 Cemetery. The relocation stands to occur a few months before the 3rd anniversary of the establishment of the garden on May 16 next year.
The Hinzpeter Memorial Garden is 70 centimeters wide and 60 centimeters long, located around the pagoda of the cemetery, where Hinzpeter's nails and hair are buried, collected when he visited Gwangju back in 2005. It is pointed out that the site is narrow, thus requiring its nearby toilet and septic tank to be moved to other place.
The German witness Hinzpeter was a German public TV ARD-NDR correspondent to Japan in 1980. As the May 18 uprising occurred in Gwangju, he visited the city twice – May 20-21, May 23 - with the help of Kim driving a taxi for him. The reporter became the first to reveal the wrongdoings of the new military regime across the globe.
The taxi driver was traumatized after the May 18 uprising. He died of liver cancer at the age of 54 in December 1984, four years and six months after the Gwangju movement. Back in 1980, he worked as a foreigner-only taxi driver at Palace Hotel in Seoul. Many foreign journalists got help from Kim who spoke English and Japanese.
Hyeong-Ju Lee peneye09@donga.com