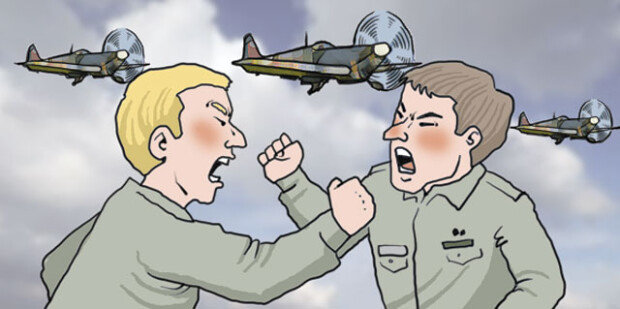 In London, walking along the River Thames towards the Whitehall with Big Ben behind you, you will soon be greeted by the Battle of Britain Monument. On the sculpture, part of a speech by former British Prime Minister Winston Churchill is inscribed. "Never in the field of human conflict was so much owed by so many to so few."
In 1940, the Germans decided to halt their advance on Dunkirk and set up a plan to mobilize their air force, not the army. Consequently, the Strait of Dover had to be blanketed with fierce air battles between British and German bombers and fighter planes in what is now known as the Battle of Britain.
British pilots made desperate efforts to interrupt German bombers, but they found themselves swamped by a larger number of jet fighters, failing to fully block the German force's intrusion. Not a day went by without bombs dropping in major cities like London. Britain, enraged by the attacks, deployed a bomber to Berlin. From this moment on, the battle started to turn into a violent massacre, targeted at not only the enemy's strategic assets such as military bases, facilities, railroads, and communications system, but also innocent civilians.
In the midst of such chaos, a ludicrous incident happened in Britain: A tussle between pilots of combat aircrafts and bombers. Bombers were deployed at night while fighter planes were mobilized during the day, so the pilots could not see one another in the battleground. When coming across one another at pubs or on streets, they criticized the other sitting idle when they were risking their life to win the battle. A pointless sense of rivalry among young soldiers, on top of misunderstanding, made the pubs near the airfield full of noise from frequent fisticuffs. There was even a joke that the British force combats the Germans in the sky and themselves on land.
We all look at the world within the boundary of our own space. The world is not a place that can be fair, and we feel more uncomfortable if we see what is unfolding around us within the limited boundary. It feels like those people are doing nothing while I am suffering hardships, and those are fiddling around while I am trying to be as diligent as possible. Demagogues use such feelings to their advantage to aggravate conflicts and pitch inappropriate solutions. Back to the history, the British pilots won the battle despite tussles. Will we be able to win the war of our generation called hatred and conflicts?