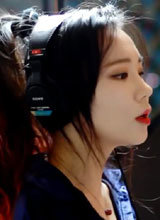 South Korean YouTube singer J.Fla has become the first individual Korean who has more than 10 million subscribers.
According to her management company, Feel Music, Tuesday, her YouTube channel "JFlaMusic" has attained 10 million subscribers after its record of 5 million subscribers in November 2017. In March, she outran another Korean YouTube sensation, guitarist Jung Sung-ha, who kept first place for seven years with 5.37 million subscribers to his YouTube channel.
J.Fla failed to gain attention back in July 2013 when she made her debut with her album "Stupid Story," but she rose to stardom from 2016 by uploading covers of pop artists on YouTube. Her covers of Ed Sheeran's "Shape of You" and Luis Fonsi's "Despacito" attracted more than 100 million views. J.Fla signed a record contract with British record label Ostereo in 2016 and released her cover album "Believer" in September.
Kyu-Jin Shin newjin@donga.com