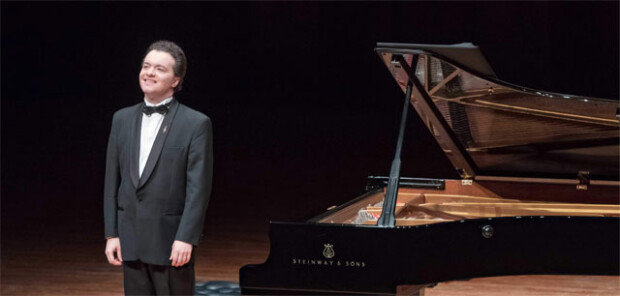 For the day, a "Kissin Arts Center" seemed more apt a name for Seoul Arts Center. Before the show on Sunday, fans listened to the Russian pianist's songs as warm-up, and after his performance was over, they queued up in line to get his autograph on his book Memoirs and Reflections. The art center was filled with the sheer energy of Evgeny Kissin, a 47-year-old Russian classic pianist.
His performance - Chopin's Nocturne F Minor, Schumann's Piano Sonata No. 3, Rachmaninoff's Preludes Op.23 and Op.32 – boasted a perfect ratio between perseverance, delicacy, passion, and flexibility. The audience was simply captivated, and the cycle of "ovation, farewell, and encore" was repeated a whopping eight times.
Kissin, the born prodigy and practice addict, has established himself as something of a brand. A piano maverick, the Russian pianist is known for his work ethics sticking to his six-hour rehearsals and divine interpretation of classic.
It was his "sincerity" that struck a chord with his fans during his fourth visit to South Korea. "I perform encores not because I feel obligated to do so but because my audience wants it," said the Russian piano prodigy, revealing his philosophy about life and music. "I am different from others as I always try to be myself."
Kissin is coming back to South Korea in November in musical collaboration with the Bavarian Radio Symphony Orchestra. During the two-day concert on Nov. 29 and 30, Kissin will perform Liszt Piano Concerto 1 on the second stage. The concert will be conducted by Zubin Mehta, instead of Mariss Jansons, who could not perform for reason of health. The performance will take place at Seoul Arts Center at 8:00 p.m. Ticket prices are ranged from 80,000 won to 380,000 won.
Seol Lee snow@donga.com