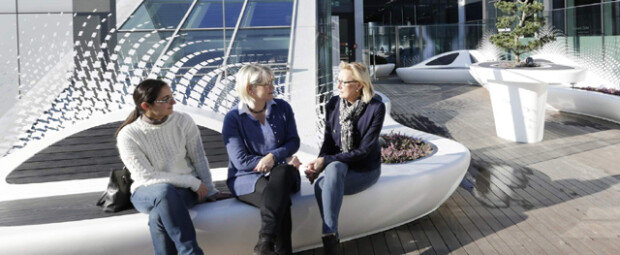 International airports are a battlefield where interior design finishing material businesses fiercely compete against each other to win contracts. Airports determine the first image of countries or cities, which is why they are extremely picky when it comes to finishing materials. A business insider said, "Materials used in main airports of advanced countries are regarded as quality products."
Artificial marble is especially popular in airports. It not only looks classy, but also is durable and easy to process. Korean businesses are thriving in this market. A relevant business said Thursday that LG Hausys signed contracts with more than 10 airports around the world with its artificial marble brand Hi-Macs. It was used at the second terminal of the Incheon International Airport, Frankfurt Airport in Germany, Charles Des Gaulle Airport in France, Naples International Airport in Italy, Václav Havel Airport Prague in the Czech Republic and more.
The size of the international artificial marble market has grown to 1.8 billion U.S. dollars this year from 1 billion dollars (around 1.13 trillion won) in 2009. Global chemical companies such as DuPont of the U.S. accounted for the majority of the market until early 1990s. But domestic businesses including LG Hausys, Hanwha L&C and Lotte Advanced Materials started to develop and sell materials later on, and this year, Korean businesses take up as much as 44 percent of the global market.
LG Hausys will add a production line for engineered stone at an artificial marble factory in Georgia, the U.S., by investing 50 million dollars until the end of next year. It invested 40 million dollars in total to build the first engineered stone factory in 2011, and second in 2016. Its engineered stone production capacity will increase from 700,000 square meters to 1.05 million square meters.
Tae-Ho Hwang taeho@donga.com