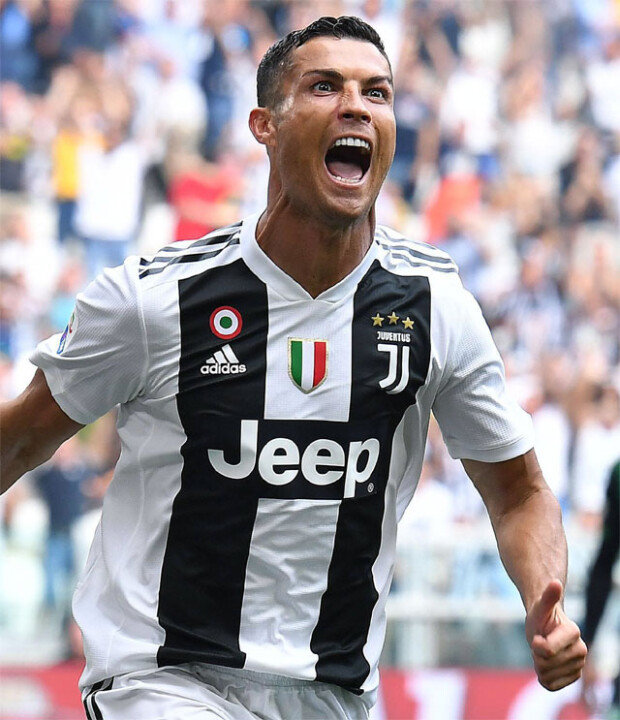 Cristina Ronaldo, the 33-year-old "Super Star" footballer of Juventus, has netted his debut goals in Serie A. It took him four matches to find the net for the first time since he moved to the Italian league in July from Real Madrid, the prestigious Spanish football club.
On Sunday, the Portuguese netted a brace against Unione Sportiva Sassuolo Calcio on Round 4 of the Serie A league, which was held at the Allianz Stadium in Turin, the home of Juventus. The first goal was lucky. In the fifth minute of the latter half, an opponent defender tried to clear the ball, which bounced off the goalpost and drifted back towards Cristina Ronaldo. The prolific goal-getter did not miss the chance, and found the net with an easy tap-in with his right foot. After the opener, he ran towards the stand and made the long-awaited celebration for his first goal in Italy with his signature gesture.
The goal was netted when he had spent exactly 320 minutes in the jersey of "The Old Lady." Having made headlines with a 100-million-euro transfer to Juventus in July, Ronaldo has played three games full-time, but only managed to make a single assist for his new team. The performance was way below the expectations of the legion of his fans.
Overcoming the pressure for a debut goal, he found the net again in 15 minutes. Dashing into the penalty box during a counterattack, the Portuguese collected a pass and unleashed a powerful shot with his left foot into the goalposts. The second goal attested to both the agility and the sheer strength of Cristina Ronaldo, who is also dubbed as a "Scoring Machine."
Jae-Hyeng Kim monami@donga.com