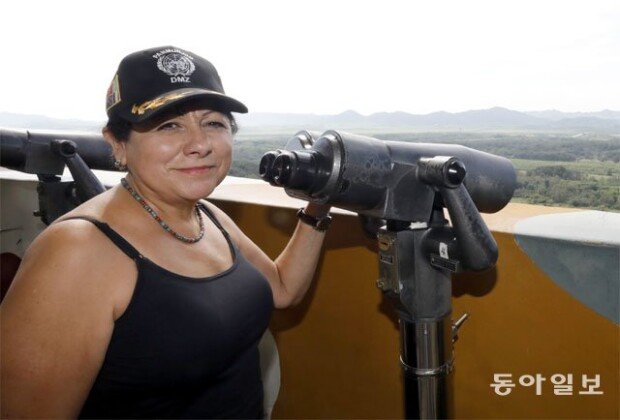 Tish Hinojosa, an American folksinger known for her song "Donde Voy (Where I go)," has been named the world's honorary ambassador to support a peaceful reunification of the Korean Peninsula.
"I will assume a role of promoting the Korean people's desire for reunification at the proposal of an organizing committee of 'One K Global Campaign'," said Hinojosa last Friday, within the Civilian Control Line in Paju, Gyeonggi Province. "One K Global Campaign" is an effort to raise awareness and support for reunification joined by 950 civic groups. A song "One Dream One Korea," which was used as the background music at the inter-Korean summit in April, was also released by the campaign in 2015.
"Where I go, where I go. Hope is my destination. I'm alone, I'm alone. Through the desert, a fugitive, I go."
"Donde Voy" depicts an illegal immigrant of Mexico who crosses the border of the United States in search of jobs to provide for a lover. A sorrowful melody was used as a theme song for a popular TV drama "Rose of Betrayal" in 1990, a year when Hinojosa visited Korea and held a performance at Sampoong Department Store in Seoul.
Though the department store collapsed, a wall that divides the two Koreas has not fallen. Visiting Korea for the first time in 28 years, Hinojosa looked around the third tunnel and the Dora Observatory, and was told about the recent developments in the inter-Korean relations. Staring at the other side of the border, she said that "Now I think I can understand why so many Korean people related to my song."
"I lived my whole life in a Mexican society in the state of Texas. So I was told numerous tragedies in which people risked their life to cross the border, strayed into a desert, and perished. 'Donde Voy' is a song based on such stories. The reality of divided South and North Korea makes me sad," said Hinojosa.
She said that she hoped for the collapse of a wall between the two Koreas, just like a wall is not needed between the United States and Mexico.
"If I make a song about reunification, it will serve as a sequel to 'Donde Voy,' and it will be a happy, hopeful song, not a sad one," said Hinojosa.
imi@donga.com